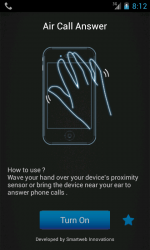 Nowadays, a lot of newly released smartphones will try to impress you with their cool and interesting features. One good example of this is when you are accepting calls. Instead of manually pressing the accept button, all you need to do is to wave your hand or finger in front of your phone. Sounds like a cool thing to do, huh? Well, your not-so-new phone can do that too. All you need is a reliable call application that could utilize your phone's built-in proximity sensor. Speaking of which, let's find out if Air Call Answer can provide you with the features that you're looking for.
What Is It and What Does It Do
Main Functionality
Air Call Answer is a simple yet very practical call application for Android tablets and smartphones. What this app can do is that it will allow you to accept and reject any incoming call without the need to touch your phone. Just wave your hand or finger in front of your phone screen and the app will automatically answer or reject your call. You can also answer your calls by simply putting your device near your ear.
After installing Air Call Answer to your device, you'll need to enable it first by going to its settings. Once enabled, you can select your preferred options such as enabling your speakerphone and call vibration. If you do not want to answer your incoming calls, you can just set the app to reject all of your incoming calls.
Pros
Easy to use, nice UI
Responsive – can easily detect your hand movement or gesture
You can enable/disable the app in just a single press of a button
Features a home screen widget
You can accept calls by simply waving your hand in front of your device
You can reject calls by simply waving your hand in front of your device (*this feature must be enabled)
Configurable user settings – lets you enable or disable certain features such as the speakerphone, call vibration, call screen message and pocket mode
By enabling the pocket mode, the app will prevent any automatic answer while your phone is in your pocket
Cons
There is no ad-free version
Lacks feature for automatically putting all of your incoming calls to silent mode
There is no option wherein you can just set some callers or phone numbers that you want to reject
Discussion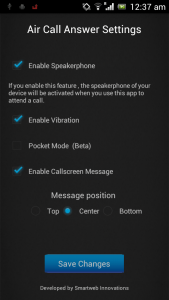 Air Call Answer is a reliable call application and it's highly useful especially if you are the type who likes to do multiple things at once. Furthermore, this app is very easy to use. No need for you to learn some complex commands. All you need to keep in mind is that it lets you answer your incoming calls by simply waving your hand in front of your phone. It's as simple as that. If you want to reject calls, then you simply change the app's settings so every time there's a call, you can just wave off your phone screen and the call will be automatically rejected.
Functionality wise, this app is very simple and direct to the point. It simply does what it is intended to do but it doesn't go beyond that. Nevertheless, you are allowed to customize its settings according to your liking. As a matter of fact, you can enable or disable some of its features such as its speakerphone, call vibration and pocket mode.
What I like about this app is that it is responsive and stable. There weren't any troublesome glitches and errors. It quickly responds to my hand movements so it makes it easier for me to answer calls even if I am doing other important things such as cooking, writing, etc.
Aside from the above stated features, this app also features a handy home screen widget. The widget is a great option especially if you want to quickly enable the app without having to launch it from your app drawer.
All in all, I could say that Air Call Answer is a good call application. It's just that it also has some downsides such as the fact that it doesn't have an ad-free version. It would be really nice if this app has alternate version that's totally free from ads plus it also lacks the option that lets you mute or reject certain calls from your smartphone especially if the call will just bother your work.
Conclusion and Download Link
If you are in search for a good, straightforward and reliable call application, you better try Air Call Answer. This app is definitely suited for anyone who wants a better and more efficient way to accept or reject calls. Just don't expect that this app will work on VoIP calls because it won't.
Price: Free
Version reviewed: 3.0
Requires: Android 2.2 and up
Download size: 545KB
Related Posts