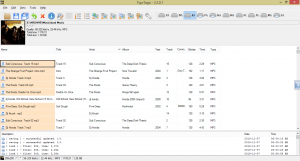 I used to be very paranoid about losing all my important media files, mainly music. As an iPod owner, I felt the need to backup every file from it. The simplest way was to show all hidden items on it, search for music files and copy them all onto my computers hard drive. Unfortunately all of those file names are encoded along with some of their tags so its a little tricky discerning which file belongs to what song and artist. I'm too lazy to open them all or change the file names and tags using Windows. Yoplo's Tigo Tago is an extremely flawed but apt way to manage your media file tags.  
What Is It and What Does It Do
Main Functionality
If you have a media file, specifically a music file and you right click it, select the properties menu-item and choose the details tab. Under that tab it will display a list of tag names and values such as title, album artist and album. It's easy enough to alter these tags for every individual file but it becomes tricky if you want to do it in batch. Tigo Tago allows you to edit multiple media file tags in batch, using a spreadsheet display. This is extremely important if you have a lot of media on your PC and you need to sort it all out .
Pros
Spreadsheet display
Can retrieve tag info from the web
Multiple ways of sorting displayed data
Comprehensive offline help guide
Aesthetically satisfying user interface
Displays tagged album artwork which can be opened in your default picture viewer
cons
Quite a few bugs and issues
Development has been stopped completely
No option to minimize it to the system tray
User interface navigation can be frustrating
User interface is unintuitive
Has a lack of comprehensive options to configure how it runs
Auxiliary functions aren't simple to use or configure
Needs .NET Framework 2.0
Discussion
Its a quick install with seemingly no bloatware. However, one of the first issues I encountered was that you needed to have AIMP2 installed. For those who don't know, AIMP2 is a freeware media player. It's very popular with the underground software hipsters. Look out for a possible review on the latest version from me. It's funny that it needs the second version of AIMP, it's not flexible enough to use anything else it would seem. What's extremely annoying is that it doesn't inform you clearly that it wont play music without AIMP2 , not even in its help file. You have to figure that out yourself by looking on the log screen. There are no message dialogs informing that this function cannot work without that missing piece of Software.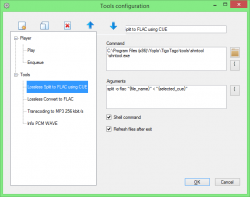 Not only can you use Tigo Tago to edit tags and play music (if you have AIMP2) but you can also use it to convert and split to flac. Mind you, the split never worked for me but I was able to convert a .wav file into flac but not a mp3 to flac. It brings up a command prompt screen with an error message and the current file directory selected. You can also convert files into mp3. This worked with no hitches. Another thing you can do is retrieve the PCM (Pulse Code Modulation) info of WAV files. This also seems to work. All these bring up a command prompt screen because of the third party software they use.
You can choose to change what tools Tigo Tago uses to perform these functions under Tools configuration. Doing this may not be easy for the mildly computer literate. You can also use this to add your own auxiliary functions delete and edit the ones that are already available.  A great option in my opinion. Two of the major 3rd party software that comes with Tigo Tago is ffmpeg  and shntool which allow you to perform those auxilary functions.
My first impression was that navigation was really bad and unintuitive. There are two views, the current directory view and the file list view. The current directory view allows you to browse through the current selected drive like a file explorer while the file list view finds and displays all the media files on the current drive. I suggest that you don't select this option, especially if you have a lot of media files on your drive. I could not get it to work without it crashing, running out of virtual machine memory or displaying an error message. The single click is really annoying when you're browsing through folders and there is no option to change the way this works.
You can choose to edit tags cell by cell, manually or advanced edit where a long list of all the available tags are displayed and can be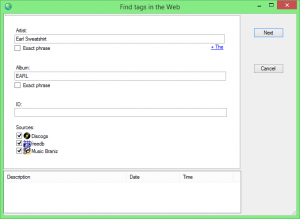 edited. You can set a column of cells or a row of cells using a single cell of copied info. You can fill in track numbers either automatically or manually step by step by step. You can retrieve track and tag info from online websites like Discogs,Brainiz and FeedB. It will fill in all the tag info for you, including the album art. Before changes can be made to the actual files on system, you have to save. Changes for files can be saved one by one or in batch. Changes can also be undone per tag, file or bulk. You can rename tags from file names or file names from tags. You can rename tags from text files or cue sheets. This is not always simple or user friendly as it uses case sensitive masks. A list of great functions executed poorly.
It's unfortunate that the developers have decided to leave it so buggy and unfinished. According to a multitude of forums and their website, development on it has been discontinued. I could not find any source code which made me ultra sad. It has a lot of flaws and imperfections but also great potential and usage. If I could only make those changes I want to see in it.
Conclusion and Download Link
Tigo Tago is like an old ragged car. It is a derelict of a program that gets you from A to B with no air-conditioning or comfortable seats. You can't always trust it to work but when it does, especially for its main tag editing functionality, it works efficiently. It's a heart sore, really, because of all the things I could see it doing in the future, but, in its current state, you may not like the buggyness of this program. So, for most people, I'd recommend you better try to find a suitable alternative. Any suggestions? I don't know of any off the top of my head. If you do, let us know in the comments below!
Price: Free
Version reviewed: 2.2.0.1
Supported OS: Windows XP, Windows Vista, Windows 7, Windows 8
Needs .NET Framework 2.0
Download size: 8.2 MB
VirusTotal malware scan results:  2 / 46
Is it portable? No
Related Posts