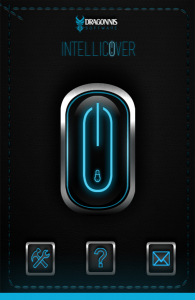 Don't you feel bothered when you constantly need to turn your phone screen off? It usually happens especially if you have opted to set a longer screen timeout. So when you're all done using your phone, you have to manually turn off its screen. While this might not be a big deal, keeping your phone screen on for a longer period of time could only make your phone's battery to deplete faster. Fortunately, there is this intelligent application called IntelliCover 2.0 and it is specifically designed to automatically turn your phone's screen on and off.
What Is It and What Does It Do
Main Functionality
With IntelliCover 2.0, there is no need for you to manually turn your phone or tablet screen on and off. The app itself can automatically initiate those actions since it utilizes your phone's built-in accelerometer, proximity sensor and light sensor. All you need to do is to download and activate the app and it will automatically turn your screen off whenever it is flipped down or tucked inside your bag or pocket. You can also configure the app according to your own preferences. You can calibrate the sensor's sensitivity plus you are also free to set your preferred mode. For example, if you choose "Proximity Mode" then the app will automatically use your phone's built-in proximity sensor to detect and decide as to whether your phone's screen should be turned on or off. Just keep in mind that this app will only work for as long as you have any of those sensors that I've mentioned above.
Pros
Neat and modern-looking user interface with large buttons
Configurable user settings – you can disable or enable some of the app's built-in features and controls (ex. Screen On Only, Screen Off Only, Disable in Portrait Mode, Disable in Landscape mode, etc.)
Features four primary modes – Proximity Mode, Shake Mode, Light Mode and Proximity and Light Combo Mode
Features one miscellaneous mode – Pocket Protector Mode (uses proximity sensor)
Sensor Calibration – you can set the screen on/off delay as well as the shake and light sensitivity
Notifications – you can enable or disable the status bar notification as well as the notification for proximity warning
Quick toggle options for screen on/off – supports airplane mode, auto sync, Bluetooth, Wi-Fi and ringer mode
Has a widget that you can put into your home screen
No bugs, glitches or forced close errors
Ad-free
Cons
The controls are a bit confusing at first since there is no welcome tutorial for new users
The shake sensitivity is a bit off – even if the app's shake sensitivity is already set to very high, it still won't turn the screen on/off unless you shake it really hard
Discussion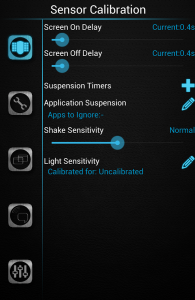 IntelliCover 2.0 is a nice utility app that you can use to automatically turn your phone's screen on and off. It actually uses your phone's accelerometer and built-in sensors to do this so it will only work according to the type of sensor that you have on your Android device. This means that if your device doesn't have a light sensor, you cannot set the app to Light Mode. The same goes if you opt to choose the app's Proximity and Light Combo Mode. If you choose this mode, only the settings for the proximity sensor will work.
Anyways, as I've already said, this app features four primary modes and one miscellaneous mode. So before enabling the app, make sure that you choose the mode that is most appropriate to your device. Nevertheless, the app's functionality will remain the same regardless of the mode that you will choose. The only difference is the way how it initiates its actions.
For example, in proximity mode, the app will automatically turn off your phone screen every time it senses that the proximity sensor is being covered. This means that the app will immediately turn off your phone's screen as soon as it senses that your phone has been flipped down or turned over. It will also do the same as soon as it detects that your phone is inside your pocket or pouch.
What's also great about this app is that you can configure its settings according to your own preferences so it's easy for you to activate or deactivate some of its features and options. Aside from this, the app also features a widget that you can use to quickly enable or disable the app straight off your home screen.
So far, I haven't really encountered any serious problems with this app. It does its job well and it is very stable. No bugs, glitches or any forced close errors. It's just that it could be a bit confusing to use since there is no welcome guide that will teach you how to properly configure the app. I also noticed that when it's set on Shake mode, its shake sensitivity is a bit off. It doesn't turn the screen on/off unless you shake your phone really hard.
Conclusion and Download Link
IntelliCover 2.0 is a good app that you can use to intuitively manage your screen timeout settings. So instead of manually turning your phone screen on and off or allowing the default timeout timer do its trick, you can simply download this app and let it do the job for you so you can just do some other things that really matters. Check it out
Price: Free
Version reviewed: 1.0.5
Requires: Android 2.3 and up
Download size: 4.5MB
IntelliCover 2.0 on Play Store
Related Posts