I love high resolution wallpapers. I could spend hours searching the internet for something to make my desktop look even prettier.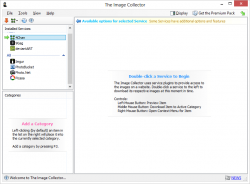 Sometimes I'll spend that hour searching to exhaustion but never finding anything that inspires me to add it to my line up of changing desktop backgrounds. I used to wish that there was a tool I could use to search the internet for the coolest images to use as backgrounds and wallpaper without opening my browser up. The Image Collector (TIC) actually does a good job of fulfilling that wish.
WHAT IS IT AND WHAT DOES IT DO
Main Functionality
The Image Collector, as the name would imply, is an image collection tool developed and created by Bootblock. It provides you with a number of picture services – basically a list of picture blogs and websites to peruse and download images from such as deviantART and 4Chan.
Pros
Automatic update
Lightweight and small
Option to close completely or minimize to tray
Comprehensive about screen
Categorizes images from websites efficiently
Comes with a great picture viewer screen for previews
Allows you to disable, uninstall or install plugins
You can back settings, categories and created icons up
Has a comprehensive error report screen for each plugin.
Portable
Cons
There isn't an easy way to create or select your own plugin
It will keep downloading thumbnails and images from the internet even if you've selected that plugin before in the same run session, instead of it caching the thumbnails and allowing you to choose when you want to download.
You cannot stop thumbnail or image downloads when they start
You cant back pictures or downloaded content up
You have to purchase a premium pack for more plugins and options
If the application is downloading thumbnails or pics, it becomes unresponsive
Discussion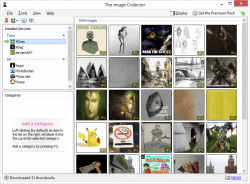 Installation goes by in less than a minute. Its a very small light weight application. No bloatware or registration needed. However if you want to unlock more of the application with more impressive features such as plugins for adult sites, you have to purchase the premium pack. This is somewhat understandable, a developer needs to eat after all.
The first thing the application does upon first time start-up is ask if you'd like to check for updates. If you choose to do so, it will display a really nifty update screen, which is the most aesthetically pleasing portion of the application in my opinion. Through the update screen, you can choose which plugins you want to update or if you'd like to update the entire application. Updates seldom weigh over a mega byte. You cannot choose to upgrade plugins if there are is a new application version available. You have to update the app and then plugins, this is also somewhat understandable. If you do choose to upgrade the entire application, it will launch into a setup where you basically overwrite the previous version. So the application update basically downloads a fresh version installer which was a little bit of a let down to me. I expected a modular or dynamic update.
When you run the application for the first time ever, each important part of the screen will be marked with instructions on h0w to run the application.  What you will notice are three major separate view parts of the application – installed services where websites and services are located, categories where downloaded images are located and still images where the application thumbnails and icons are displayed and sorted. Its a very simple and flowing display.
The bulk of application operations are conducted under the installed services display and the still images display. The standard application comes with at least seven services under two categories, Teen and All. Each service comes with its own set of options. You can bring up a menu by right clicking the service or clicking on the service menu icon just above the service frame. I had a few issues with this portion of the application. Firstly, if you right click any service under the teens category, it will select the service and bring up the respective menu for that service. If you attempt to right click a service under the all category, it will do the same but it will also attempt to download thumbnails for that service. This gets annoying because it correlates with two other problems I had with this application. In most cases if the app is downloading thumbnails, it becomes unresponsive. While it downloads thumbnails, it usually displays a status at the bottom of the screen along with a status bar alluding to the operation the application is currently performing. Sometimes this works but in most cases it would seem that the application just freezes, especially if you have a slow internet connection. Every time you double left click on an item, it will attempt to download new thumbnails for it. It would have been more efficient if it cached the bulk of those thumbnails and offered the user an option to refresh. There are no options to cancel the current operation. If the application is downloading 100 thumbnails or a relatively large GIF, then you'll just have to sit through it and wait for it to complete the download.
To create a new category, you have to select the tools menu item under the top menu bar and select categories or press F3 on your keyboard. This will open up a categories menu screen where you can manage all categories, what icons they use and which folders on the system they point to. This cannot be managed and done under the categories frame on the user interface which seems short sighted in my opinion. What you can do is sort, edit and open the folder of existing categories. Before you're able download an image, you have to select a category from this frame.
The still images view displays all available thumbnails retrieved from a services website under a criteria selected by the user. From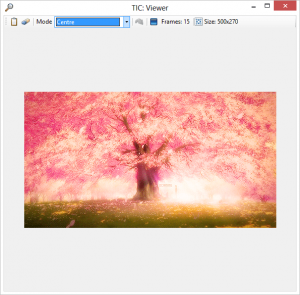 here images can be previewed or downloaded. The preview option brings up the TIC viewer. Here images can be displayed, rotated, copied or size manipulated. I thought it was very slick feature. The still image screen can display thumbnails as tiles or large icons. You can choose to group all the images according to their format or randomly. The selection on this screen can be cleared. The user can choose to download each image one by one or everything on the screen as bulk.
Other application functions include a back up and restore function where settings and icons can be saved and restored from a file.  It has a plugin manager where service plugins can be managed. From here plugins can be updated, deleted or disabled. The bots screen allows you to see what operations are currently being done in the application. There's a log screen which details the most essential portions of user to application interaction since application start up. Latest news displays latest update news and what changes there may have been in on the latest application or plugin update. Under help, there are links to local documentation and online help as well. The About screen provides you with useful links and a short disclaimer as well.
Under options, you can choose to minimize the application under the system tray by default, choose the number of network download threads it runs, change how categories are displayed and an array of other useful configurations. From here, you can also choose to start the application up in a portable mode , which is always nice.
Conclusion And Download Link
The Image Collector is an imperfect application, like most applications, with a lot of great use and ambition in some fronts. The last version was released over a year ago which causes me to fear that all the fixes it needs will never see the light of day. Still The Image Collector a very useful app, none the less. I just wish it could run a little smoother but I can also blame that on my slow internet connection.
Price: Free
Version reviewed: 1.06
Supported OS:  Windows XP/Vista/7/8

Download size: 1.61 MB 
VirusTotal malware scan results: 0 / 47
Is it portable? Yes 
Related Posts