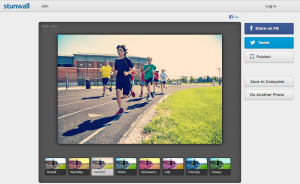 There are a lot of apps and tools that you can use to edit and enhance your photos. If you have a smartphone or tablet, you can use a free app like Instagram or Pixlr Express. These apps are available at the app store for free and you can even share your edited photos to various social networks such as Facebook, Twitter and Pinterest. Speaking of which, you can also edit your photos via your web browser. All you need is a reliable photo editing web app such as Stunwall and you're all set!
What is it and what does it do
Main Functionality
Stunwall is a free online photo editor. It is compatible with today's most commonly used web browsers such as Google Chrome, Mozilla Firefox, Internet Explorer, etc. With this web app, you can instantly edit photos online and share it to your friends and contacts via Facebook or Twitter. You can even publish your edited photos directly at Stunwall.
To use this web app, just load it directly on your web browser then upload the photo that you want to edit. You can upload a photo via webcam or direct URL. You can also upload it directly from your computer. After that, just select the photo effect that you want to apply to your photo (ex. Warmday, Vermont, Winter, etc.). You can also adjust your photo's brightness and vignette. Once you're done with the editing, simply share your edited photo to Facebook or Twitter. Just keep in mind that if you choose to upload your photo to the web app's online photo database, it will be published for online viewing. If you want to share it to others, you can use its public link. If you do not want to publish your edited photo online, then you can simply download it to your computer. It's as easy as that.
Pros
Neat, simple and user-friendly interface
Responsive and stable
Features a total of seven creative retro and vintage photo effects – Warmday, Vermont, Winter, Strawberry, Jolly, Freezing and Grassy
You can adjust your photo's brightness and vignette
Instant photo sharing options – you can instantly share your photos to Facebook or Twitter
You can directly download your edited photos to your computer
You can upload and publish your edited photo/s to the web app's online photo database – you can share your photos via direct link
No registration required – you can use the web app as a guest user but if you want to upload your photo to Stunwall, the app will automatically register you as a random user (ex. user562)
No software download and installation required
Cons
Limited amount of photo effects/filters
You cannot crop, rotate or resize your photo
Lacks the tool or option for creating photo collages
No options for adding stickers, borders or text
Needs internet connection – the web app cannot work offline so you need a stable internet connection
Website is not mobile optimized
Discussion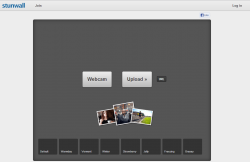 Stunwall is a decent web app that you can use for free whenever you feel like editing some photos. This web application is quite handy especially if you just want to quickly add some nice and attractive vintage-looking effects to your photos.
What's great about this online photo editor is that you do not need to install anything. You do not even need to download or install anything on your computer. You can simply load this web app on your web browser and that's it. You are all set to edit your photos.
Just like other photo editors, Stunwall features a couple of photo effects that you can add to your photos. Its features may not be as astounding especially when being compared to other photo editors (ex. Pixlr Express for Chrome, Ribbet!, etc.) but it still does the job. It is also very stable and it won't crash while you're in the middle of editing a photo.
Another thing that I like about this web app is that it provides options for instant photo sharing. This means that you can easily share your photos to other sites and social networks such as Facebook and Twitter. You can also upload your photos to Stunwall. Just remember that if you upload your photos to the web app's online photo database, it will be made available to the public so everyone is allowed to view and comment on the photos that you've published.
All in all, I can say that the Stunwall online photo editor is a good web application. It is great for applying vintage and retro effects to your photos. It's just that it might be difficult for it compete with today's most popular online photo editors since it still lacks a lot of tools and features. For example, it doesn't have a crop, rotate and resize tool. It also doesn't have a lot of photo effects. There's also no option for creating a variety of photo collages.
Conclusion and download link
Stunwall is a decent online photo editor. I can't really say that it is the best since it is only great for adding retro and vintage effects but if you just want to edit your photos really quickly right before you share them to Facebook or Twitter, then I suggest that you try and load this web app on your web browser. If you want a better online photo editor with holistic features, I suggest that you try Ribbet!, iPiccy, Pixlr Editor or Pixlr Express.
Price: Free

Version reviewed: N/A

Requires: Works on all modern browsers (Google Chrome, Mozilla Firefox, Internet Explorer, Opera etc.) on all desktop operating systems (Windows XP, Vista, 7, 8, Mac OS X, Linux, etc.)

Related Posts