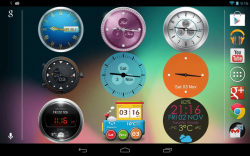 Tired of the clock widgets that you usually see on your smartphone? If so, then you might as well get some new ones and perhaps, you could opt for those with fully customizable options. Speaking of which, there is this particular app that lets you choose from its wide selection of stylish and modern widgets and it even has a built-in clock widget editor. This app is called Beautiful Clock Widgets.
What Is It and What Does It Do
Main Functionality
Beautiful Clock Widgets is a free application for Android tablets and smartphones. This app provides a wide selection of stylish-looking clock widgets with fully customizable options. Each clock widget has a different design so you're free to choose the one that you like the most. To use this app, simply press the main menu button from your home screen then press "Add" > "Widgets" then you'll see a list of available clock widgets. The said widgets are available in different sizes so choose the size that would best fit your home screen. After which, you will be redirected to the clock widget editor. Swipe to select the design that you like then press the confirm button.
Pros
Simple, neat and responsive user interface
Lots of stylish and modern clock widgets to choose from
You can customize the widgets according to your personal preference – you can change the widget's hand colors, text colors, background colors, etc.
Different widget sizes – 2×2, 3×2, 3×3, 4×1, 4×2, 4×3 and 4×4
Each widget features different elements and layouts – some widgets will show the temperature and weather while some will only show the time, date and location
You can set each clock widget to your preferred time zone – you can also add multiple clock widgets to your home screen
Has a built-in clock widget editor
Configurable settings for temperature unit, weather provider, weather update frequency, location update frequency, etc.
Multi-language support
Cons
Some of the clock widget themes are only available for Pro users
Using multiple clock widgets could quickly drain your device's battery
Discussion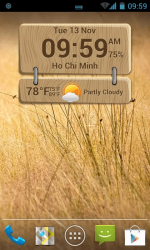 Out of all the clock widgets that I've tried so far, none of them were able to offer the right widgets that I could use on a regular basis. Besides, it's not that easy to find a reliable app that can offer a wide selection of clock widgets themes that are pleasing to the eye.
So when I first learned of Beautiful Clock Widgets, I decided to give this app a try. It turned out that this app does not only give you one or two widgets but you can also customize each widget according to your liking so you're free to edit and change the widget text color, background color, etc. Moreover, the widgets are available in different sets and sizes so you have a lot of options.
Do take note that once you have selected the widget that you like (ex. a 2×2 widget), you can no longer change its size. The size of that widget is already fixed but you are free to place or move that widget to a different location on your home screen. You should also keep in mind that some widgets would require you to provide your location but if you do not want to activate your phone's GPS, you can manually provide your location.
What I like about this app is that it is very easy to use plus the widgets are very stylish and modern-looking plus you can choose from analog clocks to digital clocks. Compared to other apps, the variety of widgets that you can find in Beautiful Clock Widgets isn't limited plus you can use as many widgets as you like. So if ever you need to monitor the time on different cities or locations, you can set the widget to show the time for a particular place or time zone.
All in all, I can say that this app does its job well and it pretty much does what it is intended to do. It's just that when you place more than one clock widget on your home screen, your phone's battery level could easily go down so you'll have to recharge your phone more often than usual.
Conclusion and Download Link
If you are looking for a reliable app that could offer you a wide selection of visually appealing clock widgets, I highly recommend that you try Beautiful Clock Widgets for Android. Not only does it offer a lot of clock widgets – it also allows you to customize your widget's text and background color. While some of the widgets are only available for Pro users, there's really no need for you to upgrade unless you don't mind spending a few bucks to get rid of those in-app advertisements. If you want another option, you can also try Digital Clock Live Wallpaper.
Price: Free, Pro – $2.60
Version reviewed: 2.0
Requires: Android 2.1 and up
Download size: 5.6MB
Beautiful Clock Widgets on Play Store
Related Posts