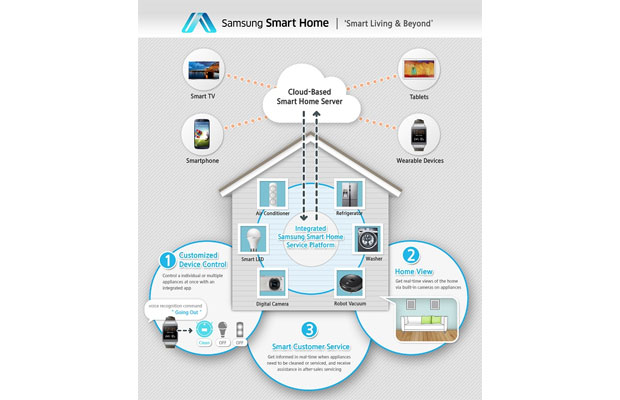 Samsung is looking to bring the future to us with its plan for the ultimate smarthome. We've come across several smarthome ideas in the past, but what Samsung is planning could very well be the best one yet to date. The only thing we fear is that the Korean giant's homemade software is usually below par and fails to execute on a substantial enough level. But hey, no reason we can't give the Galaxy maker another shot at creating something original and great.
Samsung's Smart Home initiative is just like you expect. Everything in your home will likely be able to do smart things like understand voice commands etc. But here' the kicker, Samsung wants you to have control over all of this with a single app. So imagine coming home, and before you reach the gate you could say, "open gate" into your Galaxy smartphone or even your Galaxy Gear. The same can be done to turn off and turn on all appliances in your home, or even take a peek through your home security camera via your smartphone.
Now, if you thought Samsung would limit this to only its products, you're wrong buddy. The company plans to collaborate with third party partners to extend the platform beyond Samsung own products. We like this idea because not everyone wants to use a Samsung branded TV or fridge.
To learn more about what Samsung has in-store for us geeks, keep it locked here as we will be scouring the underbelly of CES. Who knows, maybe we'll come across something even better than what Samsung is planning to do.
[via Samsung]
Related Posts