By default, every file that you download to your Android device will be automatically saved to your Downloads folder. While this seems okay at first, as time goes by, the files in your Downloads folder will continue to pile up in such a way that it would already be too bothersome for you to sort them out. In order to avoid this kind of dilemma, you might as well opt to use a simple yet very efficient automatic file redirect app such as Redirect File Organizer.
What Is It and What Does It Do
Main Functionality
Redirect File Organizer is an app that you can use to automatically redirect and sort out the files that you've downloaded to your Android device. It has both free and paid versions but in this review, I will be reviewing the free version. The way how this app works is also very simple. It lets you create four different types of "redirects" so you do not need to manually organize your files using your file manager. The types of "redirects" that you can create are as follows:
New Simple Redirect – this automatically sorts out your files according to some pre-defined presets so you can opt to move only your movies and videos, music and audio as well as your documents.
New Custom Redirect – this type of redirect lets you sort out and move your files according to their file types. For example, you can redirect files with .jpg, jpeg, .png and .gif extensions. This is ideal if you want to create a redirect route for your images.
New Folder Redirect – this is meant for redirecting all of the contents that you've stored in a particular folder to another folder
New Name Redirect – this is similar to custom redirect but instead of setting file extensions, you can use names to sort out your downloaded items
Pros
Easy to use, easy to configure
Customizable settings
Neat, responsive and stable UI, fast file transfers
Non-obtrusive, runs as a background app so you can multi-task
Supports whitelist and blacklist options
You can edit or delete your existing redirects
If you make a mistake, you can opt to undo your previous redirects
There's an option for enabling SD card support
Cons
The free version doesn't support themes and widgets. These features are only available in the Pro version
There is no redirect preset for images
Discussion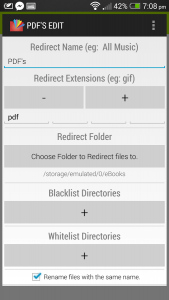 Redirect File Organizer is fairly simple to use. Once you've successfully installed it to your device, all you need is to launch it and then you select from its list of available redirect options. As I've already mentioned, this app supports four different types of redirects so it's up to you if you want to sort out your downloaded files by New Simple Redirect, New Custom Redirect, New Folder Redirect or New Name Redirect.
If you want the simplest option, then you can choose New Simple Redirect. This type of redirect will automatically classify the files that you've stored in your Downloads folder and all you need to do is to choose the folder where you want to move your movie and video files, music and audio files, etc.
If you want to be more specific with the types of files that you want to sort, you can choose New Custom Redirect. This option is great especially if you are moving files with the same type but different file extensions. This could be your images and documents.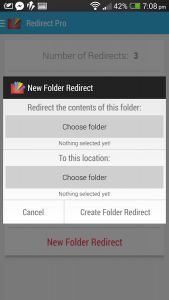 What I like about Redirect File Organizer is that it also has an option for enabling SD card support. So it makes it easy for you to transfer files from your internal storage to your SD card. You can do this by choosing the New Folder Redirect option. As for New Name Redirect, it's basically the same as New Custom Redirect but instead of sorting out files according to their formats, you can sort out files according to their names or labels.
All in all, I find Redirect File Organizer very convenient to use. It also doesn't have a steep learning curve. It is very user-friendly plus it runs in the background so you can do other things while it does all of the tedious file organizing work. It's just that it could've been better if there's also a preset for redirecting images.
Conclusion and Download Link
I find Redirect File Organizer very useful especially for users who wish to easily organize their downloaded files without any hassle. It can also transfer files very smoothly plus if you want to take advantage of its premium features, you can easily upgrade to its Pro version. Nonetheless, it's free version is good enough as it is. It is also stable enough for you to use on a regular basis. So go ahead and check it out.
Price: Free, Pro – $1.99
Version reviewed: 1.2.5
Requires: Android 2.3 and up
Download size: 1.1MB
Redirect File Organizer on Play Store
Related Posts