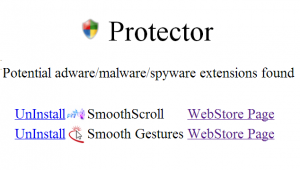 There are many types of internet security threats and if you aren't extra careful, you could easily pick them up by simply downloading a free application or software. The same goes to those who frequently download and install a bunch of browser extensions and web apps. Who knows? You might have installed an extension without even knowing that it actually contains a malware, spyware or adware. The good thing is you can actually prevent this from happening for as long as you have a security tool like ExtShield for Chrome.
What is it and what does it do
Main Functionality
Just like what its name suggests, ExtShield for Chrome is a free browser extension for Chrome that is primarily intended to protect you from all sorts of internet security threats that commonly disguises themselves as browser extensions. This, of course, includes malware, adware and even spyware. So if you have this free Chrome browser extension, you can immediately identify the potential threats that are unknowingly lurking inside your web browser. Besides, this extension is non-obtrusive and very easy to use. All you need to do is to install it on your web browser and it automatically scans for any potential adware, malware and spyware extensions.
Pros
Simple, lightweight, easy to use
Automatically scans for any potential adware, malware and spyware extensions
Can detect over a hundred types of adware, malware and spyware extensions
Shows a detailed list of those potentially harmful browser extensions
Cons
Does not automatically remove or uninstall the potentially harmful browser extension – it will only notify you about it so you have to remove the extension manually
Does not work on other web browsers such as Firefox, Safari and Internet Explorer
The extension's UI looks too plain – it would be nice if it could flaunt a more attractive user interface
Discussion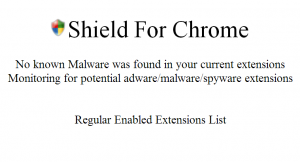 While it is not really clear how this extension can detect and stop those potentially harmful extensions from the Chrome Web Store, it does provide a very helpful solution especially for users who are constantly trying out some new extensions without even bothering to know if they're really safe to install. There are also those extensions that used to be safe and credible but for some reason, have eventually become a tool for internet criminals to inject some malware and spyware into your computer. What's even more alarming is that these extensions are updated automatically and before you even realize it, it could already be too late.
This is why having an extension such as ExtShield for Chrome can be quite helpful since it can automatically detect the extensions that are potentially harmful to your computer. It is also very easy to use. It's apparently one of those tools that you can just set and forget.
After installing ExtShield to your Chrome browser, it will automatically add its icon to your browser's omnibar (aka your address bar). So all you need to do is to click on the icon and then it will open the extension on a separate tab. Thereafter, it will show you a list of your currently installed extensions and it will also indicate the types of data or permissions that a particular extension is allowed to access. So if you haven't installed anything malicious, the extension will state that no malware, adware or spyware extensions have been found. If ever it finds any, it will immediately put it on its "Potential malware/spyware/adware extensions" list but it is still up to you if you want to remove or uninstall the said extensions from your web browser.
So far, I haven't experienced any critical issues with ExtShield. It's a decent extension but there's no denying to the fact that it still needs a lot of improvement. Anyways, its current version is working fine and I particularly like the fact that it's straightforward and simple. It is also important to note that this extension currently does not support other web browsers (ex. Internet Explorer, Safari and Firefox) and it would be really nice if its UI would be modified in such a way that it would flaunt a more attractive design.
Conclusion and download link
If you are looking for a tool that you can use to monitor and detect those potentially harmful extensions that you've unknowingly installed on your Chrome web browser, than I suggest that you check out ExtShield for Chrome. It's free, easy to use and most importantly, it helps keep your computer safe from malware, spyware and adware.
Price: Free

Version reviewed: 0.33

Requires: Google Chrome on Windows XP, Vista, 7, 8, Linux and Mac OS X

Related Posts