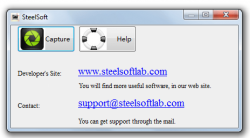 Sometimes, taking screenshots can be quite a hassle. Come to think of it, taking a screenshot of your desktop is fairly easy since all you need to do is to press the print screen button but what if you need to add some special markings and annotations? Apparently, you will be left with no other choice but to edit your screenshot using a separate image editor. Thus, wouldn't it be great if you can do all of these in just one go? Speaking of which, you might as well check out this free screenshot tool for Windows called Social Screenshot.
What Is It and What Does It Do
Main Functionality
Developed by SteelSoft, Social Screenshot is a free screen capture application for Windows that you can use to take an image of your computer screen or any specific webpage. Moreover, Social Screenshot is fairly easy to use. Just click the "Capture" tool to take a screengrab of any screen that you want (it could also be your desktop, folders, documents, videos, etc.) and then use the screen select tool to select or highlight the area that you want to capture. After which, choose any tool from the app's built-in editor to edit your screenshot. You can add arrows, text, lines, shapes, etc. Once you're done, simply click the "Check" icon to save and upload your screengrab to the app's image database. The URL of your screenshot will then be automatically saved to your clipboard. To view or download your screenshot, just load and open its link on your web browser.
Pros
Easy to use
Basic controls and functions
Has a built-in screenshot editor – features some essential drawing and annotation tools that you can use to insert some simple shapes, lines, text and arrows
Select tool – you are free to select or highlight the area that you want to capture
Automatically saves the link of your screenshot to your clipboard
You can download and save your screenshots as BMP, PNG or JPG
Cons
You can't take screenshots of long web pages – the maximum screen area that you can select will basically depend upon your computer's screen resolution (aka no capture scrolling window option)
You cannot directly save the screenshot to your local media folder — you must share every screenshot you take
The software's built-in editor has no crop, flip, erase or rotate tool
You cannot manually delete your screenshot from SteelSoft's image database
Discussion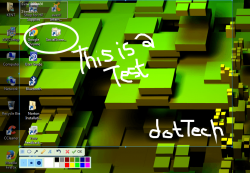 Social Screenshot is a very promising tool. Nonetheless, it comes with both good and bad aspects but it certainly has the potential to become even better. It is also important to note that this software isn't only meant to capture an image of your computer screen or desktop. It also features a simple editor so you can easily add some quick notes or annotations to your screenshot without having to load or open a separate image editor.
The way Social Screenshot works is also very simple. Its user interface may appear too bland but what's important is that it's responsive and stable. It also doesn't cause any annoying glitches or errors.
So with this tool, all you need is to click the "Capture" button and then you select the area that you want to capture. After which, it's up to you if you want to edit your screenshot or not. So once you're done, just click the green check mark button that's located underneath the area that you've selected and that's it. The software will automatically upload the screenshot that you took to its image database while the URL of your screenshot will be automatically copied to your clipboard.
While I do not have any serious issues with this software, I just can't help but feel disappointed about its lack of options for content privacy. This is mainly because it won't let you download the screenshots directly to your computer. Besides, all of the screengrabs that were automatically uploaded to its database will be made available to the public plus there's no way for you to manually delete or remove your content.
I also noticed that you cannot use this tool to take a screenshot of long web pages. It won't let you select the area beyond what you can directly see on your screen plus its built-in editor also lacks some essential tools such as crop, flip, rotate, redo and erase.
Conclusion and Download Link
Social Screenshot is good and it has certainly has the potential to become even better. I also like its idea of merging the screen capturing and editing aspects into one but what I don't like most about it is that I cannot opt to download the screenshots directly to my computer nor can it capture scrolling windows. It would also be great if it would allow its users to gain more control over the content that they want to upload or share. So right now, I would suggest that you use this tool only when you're willing to share your screenshots to the public. If not or if you want the ability to capture scrolling windows, then you should check out our list of best free Windows screenshot programs.
Price: Free
Version reviewed: 2.0
Supported OS: Windows XP, Vista, 7 and 8
Download size: 455KB
VirusTotal malware scan results: 0/50
Is it portable? No
Related Posts