There are many apps in the Google Play Store that drop their prices to free everyday. Finding only the best to download is the hard part. I searched through the many freebies and picked out the best apps for you to download. Hand picked and free for a limited time, what could be better! Note : Click the title of the app to download it .
FEATURED FREEBIE
The featured freebie is "The Best" app from today's pick. If you had one app to download, this would be it!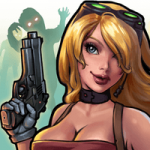 Today (after completing the tutorial) you get the ad-free version of the app AND 20,000 coins (worth$5.99) FREE!
Adventures in Zombie World is a super additive multiplayer car racing, zombie smashing and shooting game.

In 2020, Earth is attacked. A new virus called T is spreading half of the globe. Zombies are everywhere. Your mission is to find the cure of the virus and save the world. With the help of your survivor friends, you drive the vehicles in extremely hazardous roads, kill zombies along the way and reach your destination. Are you ready to accept the challenges?

REALISTIC PHYSICS AND INTUITIVE GAME CONTROL
Tilt the vehicle to steer away from obstacles. Smash zombies to kill them and collect coins. Tap on Speed button to run away from dangers or smash zombies. Tap on Shooting button to kill zombies or destroy obstacles.

REAL-TIME MULTIPLAYER RACING
Real-time race against other players world-wide. You can race against 3 other players and record the wins on Leaderboards.

25 HANDCRAFTED LEVELS
You need to pass 25 levels with various difficulties to reach final destination. There are multiple missions to accomplish for each level to earn extra coins.

ENDLESS MODE
You drive the vehicle in the endless mode to kill as many zombies as you wish and record the high score to Leaderboards.

[…]
Rating : 4.5/5
APPS GONE FREE
Keep all your passwords and personal informations secure with Cryptsy Password Manager.
Rating : 4/5
2. WordsWorth (Amazon Link)
A word puzzle game where you'll be given a pool of words and you have to create as many words as you can from the pool.
Rating: 3/5
Hurry and download these free apps before they go back to paid. Take note at the time of this post all of the above promotions are live. However, please note some or all of the above apps may only be available for free for a limited time. So jump on these while you can and always double check to make sure you are not paying for a freebie app before downloading. dotTech and its writers are not responsible for accidental purchases due to price changes. Enjoy!
Related Posts