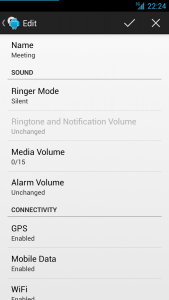 Android has a lot of cool and useful features. However, it seems to be missing something that used to be present in almost all types of feature phones – the ability to switch to various sound profiles apart from silent mode and vibrate mode. Fortunately, there are a bunch of good apps out there that you can use to create your own custom sound profiles and one good example of this is the task automation/profile switcher app called SwiP for Android.
What Is It and What Does It Do
Main Functionality
SwiP is a free task automation/profile switcher app for Android tablets and smartphones. What this app does is that it lets you automate some basic tasks that you often do on your device (ex. turning the GPS or Wi-Fi on). Aside from this, it also lets you create any type of custom sound profile that you can use whenever you like. Furthermore, this app can automatically enable each profile by simply using a special trigger like the time, your device's battery state as well as your current location. So instead of manually changing your device settings from time to time, you can just use this app to automatically set your preferred profile.
Pros
Easy to use, easy to configure
Neat UI, responsive and very stable
Configurable settings
You can create, manage and apply different profiles that consists of the following settings – ringer mode, ringtone and notification volume, media volume, alarm volume, GPS, mobile data, Wi-Fi, Bluetooth, automatic brightness, brightness and display time out
You can create different triggers to automatically enable any of your preferred profiles. Each trigger can be set according to the following conditions – priority, time (start-time), location, battery state (low-level or high-level) and headphone state (plugged or unplugged)
Cons
Doesn't provide as many options/features as Tasker
Works on Android 4.0 and up only
Discussion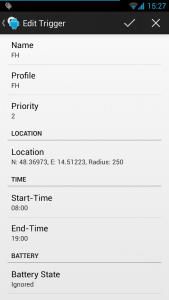 As mentioned above, SwiP functions as a task automation and profile switcher app but it's not just specific for switching sound profiles. You can also use it to automate some other tasks like turning on your device GPS, Wi-Fi, Bluetooth, etc. It also makes it easier for you to switch between profiles so you do not need to change or update your device settings from time to time. Although this app is still on its beta stage, it manages to run very smoothly and it can perform its job well without any glitch or error. It is also very responsive and stable.
What I like most about SwiP is that it is simple and easy to use. It flaunts a simplistic UI with two main tabs – one is for "Profiles" while the other is for "Triggers". In Profiles, you are allowed to create any set of customized settings. These settings basically consist of various options for sound, volume, connectivity and display. If you are using the app for the first time, then you will have three basic profiles to choose from (default, home and meeting) but you can easily add more custom profiles by clicking the "+" button.
On the other hand, the profiles that you have created can be automatically enabled provided that you use some special triggers. You can create new triggers in the "Triggers" tab. For every custom trigger that you create, you can set certain rules or conditions that would cause a specific profile to start – ex. location, time and battery level.
All in all, I think that SwiP works pretty well. Its options and features may not be as advanced as Tasker but it certainly does the job plus it is not difficult to configure so it's a great app for starters. Nevertheless, it would be great if it could offer more features and profile options like automatically sending a message to your contacts. It would also be nice if it could offer a dark theme since its UI currently sports a white background with a black navigation bar.
Conclusion and Download Link
SwiP may still be in its beta stage but it is stable enough for you to use on a regular basis. It also may not be as feature-packed as those advanced task automation apps that you can download from the Play Store but what's great about it is that it features all of the basic tasks that you often do on your device plus it's user-friendly. It basically helps you manage your device in a more efficient and hassle-free manner. So go ahead and give it a try.
Price: Free
Version reviewed: 0.2.4 (Beta)
Requires: Android 4.0 and up
Download size: 1.0MB
SwiP – ProfileSwitcher on Play Store
Related Posts