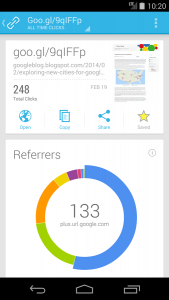 Using a URL shortener to shorten your links has its own advantages and disadvantages. However, there are various instances wherein you are left with no other choice but to do so. One good example of this is when you are trying to compose a tweet but the URL of the blog post or video that you want to share appears to be too long. In such cases, you might want to consider using a free URL shortening service like Google URL Shortener.
What Is It and What Does It Do
Main Functionality
Google URL Shortener is a free URL shortener for Android tablets and smartphones. It's a third-party app that uses the Goo.gl URL shortening service but it is not officially affiliated with Google. Anyways, what this app does is that it lets you shorten your long URLs and squeeze them into fewer characters so a long link like "https://play.google.com/store/apps/top" could be shortened to "http://goo.gl/Q7kiA5". Other than this, Google URL Shortener also keeps track of your short URL clicks and stats. Since it's an app, it is automatically integrated to your other apps via the "Share" feature so there's no need for you to open the app directly just to shorten the URL that you want.
Pros
Simple, easy to use
Lightweight, responsive and stable
You can access the stats of any short URL (not just yours) and keep track of its raw click counts and distribution across platforms, browsers, countries and geographical locations
You can quickly shorten links in any app – just use the "Share" option
Rich notifications
You can acess the app offline
You can view your short URL link history – for the past two hours, past day, past week, past month and all time
You can save any short URL to "favorites"
Built-in search tool
Cons
The stats are not based on real-time
You can't customize your short links using custom keywords
Requires Android 4.0 and up
Discussion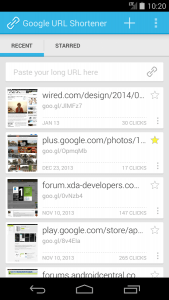 Google URL Shortener flaunts a simple yet elegant and colorful "card style" UI. On its home page, you can immediately notice that your shortened links are being sorted into three parts – most recent, recent and starred. You will also see the "shorten your link here" box at the top-left portion of your app's home page. Apart from this, the app also has a built-in search tool that you can use to find out the long and original links of any short "Goo.gl" URL.
What's great about this app is that it does not only shorten your links – it also has its own analytics so you can view the stats of any short URL (not just yours) by viewing their raw click counts and rate of distribution across various platforms, browsers, countries, referrers and geographical locations.
Anyways, what I can say about Google URL Shortener is that it is fairly easy to use plus it can be very handy especially if you often share links to various social networks such as Facebook, Pinterest, Google Plus and Twitter. It's ideal for bloggers, freelance writers, online shop owners, social media marketers, etc. I also like the fact that it supports rich notifications. You can also preview the actual page of your shortened link even if you don't load it on your web browser.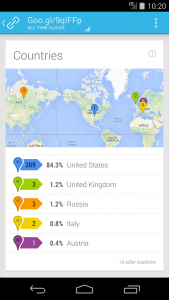 With this app, you have two ways to shorten your URLs. The first one is by directly pasting the link into the app's URL shortener while the other can be done on any app. Just click on the link that you want to shorten and share and then simply press the "Share" or "Share Link" option. The app will automatically shorten the URL and you can copy or share it directly to your contacts via email, SNS, IM, etc.
All in all, I can say that Google URL Shortener is a very reliable app. It's also very convenient to use. There are also no limits to the number of URLs that you can shorten plus you can keep them for as long as you want. Even so, do keep in mind that the stats that you're seeing on the app isn't based on real-time plus you cannot use this app to create custom short links which basically means that you aren't allowed to use your own keywords instead of those randomly generated letters.
Conclusion and Download Link
Google URL Shortener for Android is ideal for personal use. It can provide you with basic features that you will need for tracking down your links but its analytics is not as advanced as those that can give you real-time reports. It also doesn't support custom short links but it does flaunt a neat and elegant Ul. So if you're only looking for a reliable link shortener that you can use on a casual basis, I would definitely suggest that you give this app a try.
Price: Free
Version reviewed: 1.0.1
Requires: Android 4.0 and up
Download size: 2.2MB
Google URL Shortener on Play Store
Related Posts