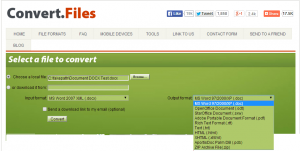 Converting different files into other formats can be quite a hassle. Aside from the fact that you'll need a converter that would support a specific format, you will also need to ensure that your files don't get messed up. Apart from this, you will also need to download and install two or more converters into your computer. Fortunately, there's an easier way to convert your files regardless of their formats. All you need is an online converter called Convert Files but first, let's find out if it can really live up to your standards.
What is it and what does it do
Main Functionality
Convert Files, also known as Convert.Files, is a free online file converter. In other words, it is a web-based tool that you can use to convert files of all sorts into a particular file format. What's great about this tool is that it supports a wide variety of input file and output file formats which usually ranges from documents, drawings, presentations, e-books, videos, audio and images. It can convert DOC files to ODT, PDF, TXT, HTML, ZIP, etc. You can also use it to convert EPUB files into PDF or vice versa.
Pros
Easy to use
No software download or installation required
No sign-in or user registration required
Supports a wide range of input file and output file formats – documents, images, drawings, presentations, e-books, videos, audio, archives, etc. (kindly refer to

this link

to view its full list of supported formats)
You can download and convert files directly from their URL or web address
You can send the download link of your converted file to your email
Fast file conversion
You can convert files of up to 250MB
Has a "delete output file" option so you can delete or remove your file right after you're done with the conversion
Cons
You cannot convert multiple files at the same time
Although the site itself states that the converted files will only be kept on their servers for 24 hours, there could still be a possibility of privacy/security breach since the website connection isn't encrypted
Discussion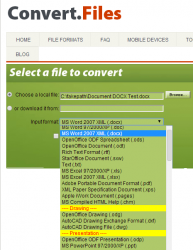 To use Convert Files, you simply need to go to its homepage and then you'll see a green box that states "Select a file to convert". In this box, you have the option to upload the input file from your computer or to download and convert it directly from its URL or web address. After which, the converter will automatically recognize your input file's default format and you can confirm it in the "Input Format" box. To select the format for your output file, go to the "Output Format" section and then select the output format that you want. All of the supported formats will be listed there so all you need to do is to click your preferred file format.
Once you're done, you can also opt to check the "Send a download link to my email" box. This feature may be optional but it is quite handy since it will email you the download link. Therefore, you can download the file whenever you like for as long as you get it within the allotted time. Do keep in mind that this online file converter will only keep a copy of your files on their servers for 24 hours. After that, your converted file will be deleted so you need to convert it all over again.
Anyways, the entire file conversion process usually depends on how large your file is but if you are just converting a simple document or e-book, then it would only take a few seconds. Once your file is ready, you will be given a download link. You will also have the option to delete your converted file.
What I like about Convert Files is that supports a wide variety of file formats. It's like an all-in-one converter since it supports the conversion of documents, drawings, presentations, images, audio, archives, videos, etc. It can convert DOC to PDF, EPUB to PDF, HTML to TXT, FLV to MP4, AMR to MP3 and a whole lot more. It is also very easy to use. You won't have a difficult time figuring out how to convert your files so it's ideal for those who aren't tech-savvy as well as to those who just wants a quick and easy way to convert their documents.
Nonetheless, this online file converter also has its downsides. It's good for converting single files but it won't allow you to convert multiple files at the same time. It also doesn't have an encrypted connection so I would suggest that you avoid using it when the file that you are trying to convert contains a bunch of sensitive information – ex. emails, contact numbers, passwords, etc.
Conclusion and download link
Convert Files proves to be a decent option for converting files of different formats. I like it mainly because it supports a wide range of input file and output file formats. It's just that it could have been much better if its connection is encrypted. It also doesn't have an option for converting multiple files. Even so, this online file converter is still worth checking out. So go ahead and give it a try.
Price: Free

Version reviewed: N/A

Requires: Works on any type of modern web browser (Chrome, Firefox, Safari, Opera, IE, etc.) on any desktop operating system (Windows XP, Vista, 7, 8, 8.1, Mac OS X, Linux, etc.)

Related Posts