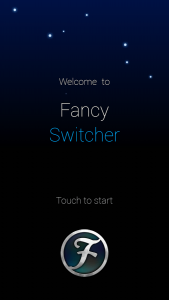 Looking for an app to replace your Android's native switcher? Well, there are a bunch out there that you can download for free. You just need to pick the one that you like the most. Still can't find the app that would best suit your taste? Well, if you are looking for a switcher with cool and responsive gesture controls, better check out this app called Fancy Switcher.
What Is It and What Does It Do
Main Functionality
Fancy Switcher for Android is a free app switcher that flaunts its customizable interface and cool yet easy to remember gesture controls. What this app can do is that it provides you with a beautiful and responsive UI wherein you can quickly view and manage your recent applications. In other words, it lets you switch from one app to another or vice versa. What's even more interesting is that you can do all these in just a few swipes instead of going through all those pesky methods.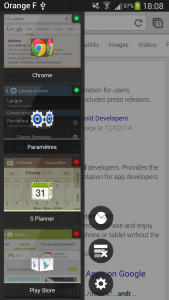 Pros
Beautiful, stable, glitch-free and responsive UI
Two elegant styles – Classic and Coverflow
Easy and practical gesture controls (swipe from left edge to show the last app launched, swipe back to the left to open the recent apps panel, swipe down to close active apps, etc.)
Configurable user settings
Easy access button for "Running Apps"
You can adjust your Smart-Slider's area sensibility, scope and position
You can opt to show or hide the recent apps bar as well as the app's notification icon
Supports "3D Effect" for icons
Supports backup and restore
Cons
Nothing too major that I could find – just keep in mind that this app has features that are only available to Gold (paid) users
Requires Android 4.0 and up
Discussion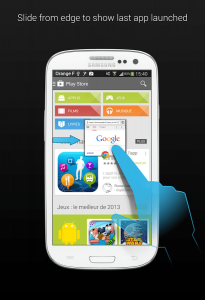 I find Fancy Switcher a bit similar to Loopr but what makes the former a tad bit different is that it presents a different style, layout and gesture controls. Both, however, have the same way of launching your recent apps and that is through touching a specific side of your screen aka your switcher's "trigger zones".
Anyways, the way how Fancy Switcher works is quite simple. It also has a built-in tutorial that will guide you through. If you are launching the app for the first time, the tutorial will immediately appear on your screen and all you need to do is to follow the on-screen instructions.
Basically, there are three main gesture controls that you need to keep in mind while using this switcher. The first gesture is for launching the "Smart-Slider" – a side panel that shows the last app that you've launched. To launch the Smart-Slider, simply swipe your finger from the top-left edge of your device screen. Just don't swipe it all the way to the center or else, the switcher will automatically open the app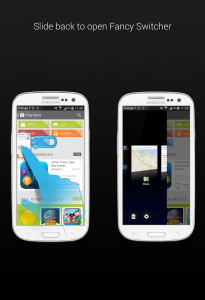 shown on your Smart-Slider. On the other hand, the second gesture is for launching the "Recent" bar. The Recent bar shows all of your recent apps (both active and killed). To launch the "Recent" bar, you can either touch the app's notification icon or do the first gesture then quickly swipe your finger back to the top-left edge of your screen. As for the third gesture, it can be applied if you want to close any of the active apps shown on your recent bar. To do so, just swipe your finger all the way down to the bottom of your screen.
All in all, I can say that I like Fancy Switcher for its ease of use. It also flaunts a stable, responsive UI plus you can customize its settings in any way that you like. Like, for example, you can change the position of the trigger zone. You can also change the app's style from classic to coverflow.
While I don't really have any serious issues with this app, it is important to note that not all of its features are accessible to free users. It may support backup and restore but if you're a free user, you can only access the restore option. If you want to backup your data, you will be prompted to pay for the app's Gold version. The Gold version is available via in-app purchase so you cannot download it directly from the Play Store.
Conclusion and Download Link
If you are looking for a reliable, easy to use and elegant-looking app switcher, I suggest that you check out Fancy Switcher. It's a good alternative for users who aren't satisfied with their Android's native switcher. The Gold version is also worth to try but that is if you are willing to pay the price.
Price: Free, Gold version – $1.31
Version reviewed: 1.3.3
Requires: Android 4.0 and up
Download size: 6.59MB
Related Posts