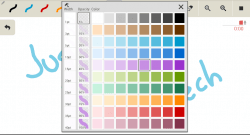 For users who wish to sketch or draw on their Android phones and tablets, there are a bunch of reliable drawing apps in the market such as SketchBook and Draw 'n' Sketchpad. The problem with these apps is that they don't let you record and add a voice-over to your drawings and sketches. If you're looking for such an app, you can try Clarisketch.
What Is It and What Does It Do
Main Functionality
Clarisketch is a free drawing and sketching app that lets you record and add a voice-over to your sketches. It is a simple app with a neat and smooth user interface. Plus, it's great for creating drawing tutorials. That's not all. The app also flaunts some basic drawing tools. There's the brush tool, paint tool, eraser tool, undo tool, redo tool, zoom tool, etc.
Pros
Simple, smooth and clean UI (ad-free)
Stable and responsive – no lags, no glitches
Supports screen recording with voice-over – you can talk while you draw
Great for home works, instructional drawings, route maps, tutorials, etc.
Features basic drawing tools such as pencil, brush, eraser, undo, redo, zoom, etc.
You can upload and share your recorded sketches to the Clarisketch community (you can also opt to keep your sketches private)
The recorded sketch can be played on any mobile or web browser
Cons
Needs more drawing tools and options
You cannot directly upload the sketch recording to YouTube or save it to your device for offline use
You cannot opt-out from recording your sketches and just save them as JPG or PNG
Discussion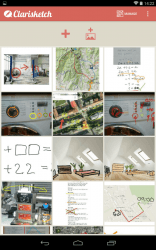 Clarisketch is good and simple. Its number of available drawing tools may be nowhere near SketchBook but it has something that most drawing apps lack – the ability to record and add a voice-over to your drawings and sketches.
With this app, you can draw and talk about your drawing at the same time. This makes the app very ideal for users who want to create and share their own drawing or sketch tutorials.
The good thing about Clarisketch is that it flaunts a simple and user-friendly UI with basic drawing tools. You also have three options for starting your drawing. You can start with a blank canvas, use an existing photo from your media gallery or take a new photo using your device camera.
Once you're all set, just press the record button and you can immediately start drawing. You can also see whether the app is recording your voice properly since it will be shown near the mic icon. Once you're done recording, just press the stop button and that's it. You can also opt to mute the mic while you still continue with your sketch recording.
As for the drawing tools, you can basically use a pen and a brush interchangeably. You can also adjust the viewing size of the canvas. Just like other drawing apps, you can also opt to change the pen or brush color as well as its transparency. If you make a mistake, just use the eraser tool to delete the areas that you wish to delete.
After recording, you can play and watch your recorded sketch right within the app. You can also opt to upload and share it online via the app's official online community. If you don't want to share your sketches, you can keep them private.
Functionality wise, I like the fact that the app lets its users record their sketches. I also find the app very smooth, stable and responsive. It's just that there's no way for you to choose between creating a normal sketch (without any voiceover or recording) and a recorded sketch. Everything that you make with Clarisketch will be recorded. I also find its drawing tools quite lacking since there are only a limited number of brush/pen choices. Plus, it does not let you work with layers or even insert a simple text.
While it's good that the app can play and load your recorded sketches on any modern browser, it doesn't allow you to directly upload your drawings to YouTube or even download the media as it is so that you can keep it for offline viewing.
Conclusion and Download Link
Clarisketch has its own advantages and disadvantages. Nevertheless, it still remains to be a decent app for skilled users who wish to record and share the sketches that they've made using their Android phones and tablets. So if you still haven't checked it out, go ahead and give it a try.
Price: Free
Version reviewed: 1.0.8
Requires: Android 2.3 and up
Download size: 1.9MB
Related Posts