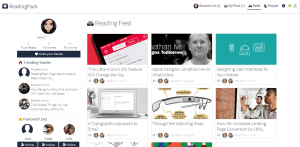 Let's just say that you happen to find an interesting article. Unfortunately, you don't have enough time to read it so you decided to bookmark it for later. The thing is, you've already saved tons of articles on your bookmarks list so you're having a difficult time choosing the article that you would want to read first. Well, this won't be a problem for as long as you keep your articles on ReadingPack, your personal reading list.
What is it and what does it do
Main Functionality
ReadingPack is an online reading list with a social twist. It's like Pinterest but it focuses more on articles. It is a free web service where users are free to share and recommend any article or blog post. That's not all. It also allows its users to discover a wide variety of interesting articles by following other users that shares the same interest or hobbies. With ReadingPack, you are given at least five options to save and recommend your articles. These options are listed below.
Install the appropriate extension for your web browser (works on Chrome, Firefox, Safari and Opera)
Install the mobile app on your Android smartphone or tablet
Add the bookmarklets to your browser's bookmarks bar
Send the article via email using your registered email address
Connect ReadingPack to third-party apps like Buffer and Pocket
Pros
Neat, stable and responsive user interface
User-friendly and convenient
Cross-platform, supports all major web browsers
You will have your own public profile
Integrated analytics – for you to be able to keep track of your account's monthly stats (followers, must reads, shared stories, etc.)
You can discover new articles by searching through its featured lists, new stories and trending stories
You can save articles for private reading
The articles with the most recommendations will automatically appear at the top of your feed
Live notifications
Cons
Lacks in certain aspects which, in return, affects its overall user experience – there's no search tool plus users can't organize their articles by groups or lists
You cannot browse for specific articles by tag or category
Discussion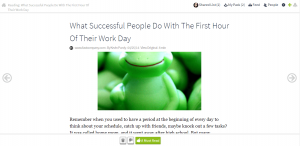 My first impression of ReadingPack was that it looks like a cleaner version of Pinterest, but unlike the latter, it is tailored for articles instead of photos and images. Furthermore, you get to have your own public profile in which you're free to share and recommend all of the articles from your reading list.
The way how ReadingPack works is quite simple. The first thing that you need to do is to register an account and then you simply follow the steps provided on its welcome screen. After that, you're free to explore its community. Just don't forget to install the app's browser extension or bookmarklet. If you choose the latter, you'll need to install two bookmarklets on your browser's bookmarks bar. The first one is for saving articles to your reading pack while the second one is for rating the articles that you've read. Basically, you'll be able to rate any article according to its quality. If you don't like an article, you can either give it a thumbs down (waste of time) or mark it as trash (move to archive). If you think that the article is worth sharing, simply click the thumbs up (a must read) button and the article will be automatically moved to your shared reading list. Keep in mind that only your shared reading list will be made available to the public. It is the only section that will be shown on your public profile.
Furthermore, all of the articles that you've placed on your shared reading list will automatically appear on your follower's reading feed. The articles that you've shared will then be sorted out according to the number of recommendations that they've received. In other words, the articles with the most number of positive ratings will be placed on the topmost section of your reading list.
All in all, I can say that ReadingPack has a nice concept. It aims to change the way that users read, organize and share their articles. I like the fact that it's stable, responsive and easy to use plus it also flaunts its neatly designed user interface. Even so, there are still a lot of aspects in which this app seems to be lacking. I do think that its features and overall functionality could still be improved in such a way that it would be able to provide a better user experience. While using it, I find it difficult to browse for specific articles since it doesn't have a built-in search tool plus it does not allow its users to organize or sort their articles by groups, tags, categories, etc.
Conclusion and download link
ReadingPack proves to be a great alternative for users who are looking for a more convenient way to save and manage their reading lists. It may not provide all of the features and options that you want but is way better than you having to search through your pile of topsy-turvy bookmarks list. So go ahead and give it a try.
Price: Free

Version reviewed: N/A

Requires: Works on all major web browsers (Chrome, Firefox, Safari, Opera, etc.) on any desktop operating system (Windows XP, Vista, 7, 8, Mac OS X, Linux, etc.)

Related Posts