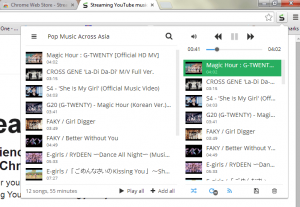 There's no doubt that YouTube is the best place to find your favorite songs and music videos. You can even sort out your favorite YouTube MV's into playlists and share them to your friends online. It's just a bummer that it won't allow you to play your favorite music videos and audio tracks in the background. Fortunately, there's Streamus – a free browser extension for Chrome that does just that!
What is it and what does it do
Main Functionality
Streamus is a free Chrome web browser extension that brilliantly transforms YouTube into a music player. That's right. With Streamus, there's no need for you to open a new tab or window just to load and play your YouTube playlists and music videos. Once installed, the extension will add a small icon on your browser's omnibox and it acts like a small widget where you can save, load, play, shuffle and repeat your favorite YouTube music videos and audio tracks. It's as easy as that.
Pros
Easy to use, easy to install, non-obtrusive
Neat UI, very responsive, stable
Built-in search function
The extension lets you play YouTube in the background – no need to open extra tabs, windows, etc.
Supports playlists – you can also rename, share and delete your playlists whenever you want
Features the basic functions for music playback – ex. adjust volume, replay, shuffle, repeat, play, previous, next
Customizable settings
Supports keyboard shortcuts
Omnibox and Beatport Integration – directly search for music videos on YouTube by typing on your browser's Omnibox; you can also go to Beatport Top 100 and click the green button next to the song to play its full track
Cons
None but could use some extra features like a menu for recently played tracks, most played videos, etc.
Discussion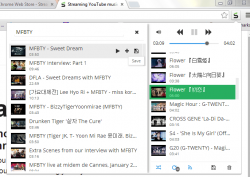 Considering the fact that it's still on beta, Streamus for Chrome has already proven its stability and usefulness. As a matter of fact, you won't feel like it's still on beta stage at all. The extension is pretty stable and responsive plus it features a nicely designed user interface that looks neat and simple. It is also user-friendly. Its controls aren't too large or too small.
With this extension, you can play any song or music from YouTube without the need to open a separate tab or window. This extension can play your songs and music in the background even if your browser is already closed.
What I also like about this extension is that it supports playlists. It also won't require you to log-in or register. It's pretty simple to use and very straightforward. Once you've successfully installed the extension on Chrome, you can start searching for videos and songs to stream and add to your playlist. Just like any typical music player, this extension has all the essential stuffs that you need to load, play and save your favorite YouTube tracks and music videos.
With Streamus, you can stream music videos directly from YouTube. You can also opt to save and add them to your playlist. You can even share your Streamus playlists to others by copying your playlist's share URL.
Functionality wise, I haven't encountered any serious problems while using this extension. It's just a bummer that it's only available on Chrome. It would be really nice if it can be used on other browsers such as Firefox, Opera, Safari, etc. Aside from this, this extension could also use some additional features like a menu for the recently played, recently closed and most played music videos.
All in all, I can say that the current version of Streamus is very commendable. It works great and you will definitely enjoy using it especially if you're the type who prefers to stream and listen to your favorite YouTube tracks and music videos.
Conclusion and download link
For quite some time now, I've been looking for a perfect way to play my favorite music videos on YouTube without having to open a new tab. Come to think of it, pinning an extra tab on your Chrome browser is quite bothersome plus there's also the tendency for you to close it by accident. So when I learned about Streamus, I immediately gave it a try and guess what? It really works wonders. It can literally turn YouTube into a non-obtrusive music player and even though it's still on it beta, it's stable and responsive enough to load and play your favorite YouTube videos for hours. So go ahead and check it out!
Price: Free

Version reviewed: 0.130 (Beta)

Requires: Google Chrome on Windows XP, Vista, 7, 8, Linux and Mac OS X

Related Posts