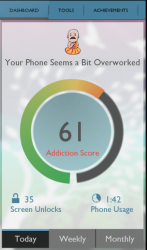 Addiction comes in many forms. It is a condition that causes an individual to become overly dependent or attached to a particular thing, activity or substance. Of course, being overly attached to your smartphone or tablet is no exception. If left uncontrolled, your bad usage habits could greatly affect your health and lifestyle. Fortunately, there's an app that can help you control your bad smartphone usage habits and it's called BreakFree.
What Is It and What Does It Do
Main Functionality
Just as its name suggests, BreakFree is a free app that is designed to help you break free from your unhealthy digital lifestyle. In order to help you control your smartphone or tablet addiction, this app will constantly monitor your phone and app usage and it will rate you according to your overall addiction score. Simply put, the lower score you get, the better. Therefore, you must strive to lower you phone or tablet usage in order to get a lower addiction score.
Apart from this, BreakFree also features a friendly app assistant called "Sato". The role of Sato is to constantly remind you of your addiction score and achievements. Just don't expect it to be too lenient.
Features:
Usage monitoring with daily, weekly and monthly stats
Non-obtrusive notifications – features a friendly app assistant called "Sato"
Phone usage management tools – ex. send auto text, disable Internet, disable all sounds, etc.
Monitors and rates your overall phone usage via achievements and addiction score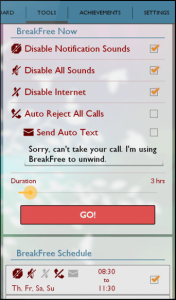 Pros
Easy to use, helps control your Internet and mobile device addiction
Features a wide range of tools that you can use to manage your controlled digital lifestyle
Features a non-obtrusive yet engaging addiction control system – ex. achievements and addiction score
Supports parental control
Configurable user settings and options
Cons
The app appears to be stable and responsive but it can still be improved or polished in many ways
Some of the app's features are only available to Pro users (ex. ad-free UI, custom messages for auto text, stats for call and app usage, etc.)
Discussion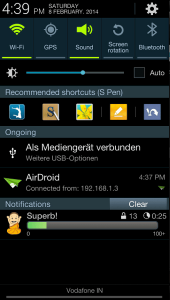 The way how the BreakFree app works is quite simple. Once you've installed the app on your device, it will automatically track the total number of minutes or hours that you've spent on your device. It will also count the total number of times that you've unlocked your tablet or smartphone. If it notices that you're going overboard, then the app will automatically notify you to take a break or unwind.
On the app's dashboard, you'll also see a graph that calculates your overall addiction score. Your addiction score is measured according to your phone usage and number of screen unlocks. It will also monitor your app activity and call usage. Keep in mind that a higher addiction score does not necessarily mean that you're doing great. On the contrary, it shows that the amount of time that you're spending on your device can already be deemed as "unhealthy". In addition, your addiction score is being divided into three zones – the green zone, yellow zone and red zone. Your goal is to keep yourself from reaching the yellow zone and red zone. In order to do that, you must maintain a score that won't go any higher than 40. If you do well, then the app will reward you with various achievements like "BreakFree Guru" and "Smooth Scheduler".
Functionality wise, I can say that BreakFree does a good job in helping its users maintain a good and balanced digital lifestyle. I also like the fact that it provides various tools for phone usage management like sending auto texts and auto reject calls. You can also schedule a time wherein you don't want to be disturbed by any annoying messages or app notifications.
As for its UI, the app does flaunt a neat, stable and responsive user interface. It's just that it could've been polished more in such a way that it would look more interactive and elegant. It should also be noted that some of the app's features are only available to its Pro users. Simply put, you need to upgrade in order to access your stats for call and app usage and custom auto text messages.
Conclusion and Download Link
Needless to say, the BreakFree app only serves as an aid to your quest to limit your smartphone usage. In other words, if you aren't willing to discipline yourself, then nothing will change. This app can only monitor and guide you but it cannot totally restrict you from using your smartphone or tablet. Even so, it offers a good way for you to seriously consider the fact that no matter how attached you are to your smartphone, you should always set aside some time to value and rekindle the moments that you can never experience in the digital world.
Price: Free, Pro – $1.99
Version reviewed: 2.8 (Public Beta)
Requires: Android 2.3 and up
Download size: 6.0MB
Related Posts