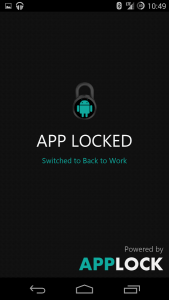 Have you ever felt like skipping your tasks simply because you don't feel like working at all? Let's face it. Each one of us has the tendency to procrastinate and this often happens when there are a lot of things that could divert our attention. This could be in the form of addictive apps, games and even the mere thought of sitting on a nearby couch. If you're having trouble concentrating, perhaps you could use an app like Focus Lock.
What Is It and What Does It Do
Main Functionality
What is Focus Lock? Well, it is basically an anti-procrastination app that you can download for free at the Play Store. Its main function is to lock all of the apps that could distract and delay you from finishing your work. Furthermore, these apps will remain locked for a specific time and you're only allowed to use these apps during your break and of course, right after you're done with your work. If you finish your tasks on time, the app will also reward you for your hard work.
Pros
Easy to use, practical
Neat, stable and responsive user interface
You can customize the timer to set your preferred app lock time interval and break time interval
You can easily lock your apps in just a single tap
You won't be able to cheat since you're not allowed to unlock any the apps while the timer is still running
You can add apps to "Favorites" for quick selection
Cons
No support for landscape mode
Lacks support for strong passwords – you can only set a four-digit PIN as password
There's only one theme – it would be nice if users can freely switch between dark and light theme
There's no way for a user to manage the app's notifications
Discussion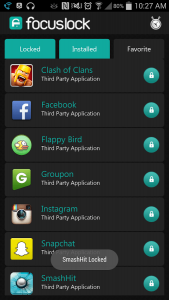 The main goal of Focus Lock is to help you focus on the things that you need to do such as your work projects or homework. Its concept is simple. It locks all the apps that you've selected and these apps will remain locked for a specific period of time. You can do this by setting up a timer. However, you do get a break time in between but after that, the apps will resume their "locked" status.
By default, Focus Lock will give you at least twenty-five minutes of working time. You will also get a five-minute break in between. The good thing about this is that you're allowed to customize the time interval for your work and break time so you can adjust the timer according to the demands of your work.
Even so, keep in mind that you are not allowed to unlock the apps for as long as the timer is still running. After the timer stops, Focus Lock will automatically unlock the apps so you don't really need to do anything except to focus on what you need to do and wait until the time stops. This way, you can't cheat which is quite nice especially if you have the tendency to check your Twitter or Facebook more often than you think.
All in all, I can say that Focus Lock is quite effective for helping users focus on their tasks. It's just that there are also some things about the app that could have been polished or made even better. One good example of this is its lack of support for strong passwords plus it does not allow its users to customize or manage their notifications. Speaking of which, the app's notifications can get too annoying since you'll get notified every time each app gets locked or unlocked. Apart from this, the app also lacks support for landscape mode plus it only flaunts a dark theme. It would be nice if this app can also allow its users to switch to a lighter theme.
Conclusion and Download Link
Focus Lock for Android is quite useful especially if you're the type who often gets too distracted because you have a lot of social and gaming apps on your tablet or smartphone. These are the types of apps that could easily divert your attention so you might as well lock them up before you get too tempted to skip your work. It also makes it difficult for you to cheat since the apps are controlled by a timer. It's just that this app isn't totally free from flaws and you might dislike the fact that it lacks support for a lighter theme and landscape mode. Even so, this app is still worth a try so go ahead and check it out. Just click the link below.
Price: Free
Version reviewed: 1.0
Requires: Android 2.2 and up
Download size: 1.1MB
Related Posts