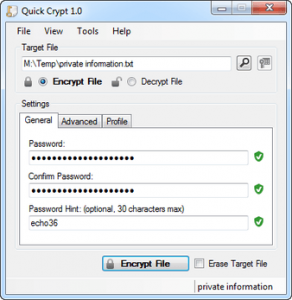 When you're handling private or confidential documents, you cannot just store them carelessly on your computer. Who knows? Someone might accidentally get a hold of some valuable information just because you did not take extra precaution. To prevent such cases, you can always password protect your files and folders. If this isn't enough, you can always encrypt your confidential files by using a tool like Quick Crypt for Windows.
What Is It and What Does It Do
Main Functionality
Quick Crypt is a free and portable file encryption program that you can use to encrypt your files. Speaking of which, this program can securely encrypt your files with 256-bit of AES encryption. That's not all. You can also use this program to set an expiry date for your encrypted files meaning the files will automatically delete them selves (aka self destruct) after the date you set. Since it's a portable application, there's no need for you to install it. It's also very easy to use. Just search and indicate the file that you want to encrypt or decrypt, set your preferred settings and that's it. There's no need for you to go through any complex methods.
Pros
Free to use, portable – no installation required
Lightweight, responsive and stable
Neat and user-friendly UI
Can be used to encrypt and decrypt files
Encrypts files with AES 256-bit encryption
You can set an encrypted file to expire after a certain date or time
Stores encryption properties in profiles
Features advanced options such as encrypting a file using a System ID, password hints and file eraser
Has a built-in secure password and key file generator – can automatically generate a 20-character secure password
Can be set to create a distributable zip file
Cons
Requires additional installation of Microsoft .Net Framework 4.5
Can only be used to encrypt or decrypt individual files – not folders
Discussion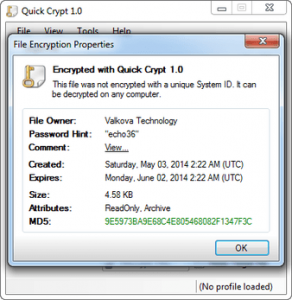 To use Quick Crypt, you simply need to download its ZIP file to your computer. Save the ZIP file to your preferred location then extract it. The extracted folder will be saved on the same location so all you need to do is to click the executable file to launch the portable application. However, this program will not work without Microsoft .Net Framework 4.5 so you need to install it first.
Now, once you've successfully launched the program, the first thing that you'll need to do is to select a file that you want to encrypt. Keep in mind that you can only encrypt individual files, not folders. If ever you want to encrypt folders, then you'll need to compress them first.
Moving on, Quick Crypt features three tabs in its main settings – General, Advanced and Profile. The "General" tab is where you can indicate your encryption password. Since this program has a built-in password generator, all you need to do is generate a secure password by going to Tools > Generate Secure Password. The generated password will be automatically copied to your clipboard so all that's left for you to do is to paste the password into the specified sections. You can also opt to provide a hint for your password.
As for the "Advanced" tab, it is where you can set the expiry date for your encrypted file. By default, the value that will be shown is 0. This means that your file will never expire. However, you're free to change the value according to the number of days that you want. If you want the file to expire after 1 day, then enter 1. The maximum number of days that you can enter is 3,650. Apart from this, you can also encrypt a file using a System ID. If enabled, the said option will prevent your file from being decrypted on other computers. As for the "Profile" tab, it is where you can store encryption properties in different profiles.
In terms of functionality and usability, I can say that Quick Crypt appears to do a very decent job. Its user interface isn't that impressive but it's user-friendly, stable and responsive. It can also encrypt and decrypt files without taking too much time. When I tried out the program, it worked fine without any notable issues. Just don't expect that its features and functions would be as advanced as today's most popular on-the-fly file encryption applications.
Conclusion and Download Link
The main benefit that Quick Crypt for Windows can give you is its ability to set expiry dates for your encrypted files. All in all, it's a reliable file encryption tool that you can use anytime. It's also portable so there's no need for you to install it on your computer. So if you're just looking for a simple yet efficient tool for securing your private files, you can go ahead and give this tool a try.
Price: Free
Version reviewed: 1.0
Supported OS: Windows Vista, 7, 8 and 8.1 (32 or 64-bit)
Download size: 107KB
VirusTotal malware scan results: 1/52
Is it portable? Yes
Related Posts