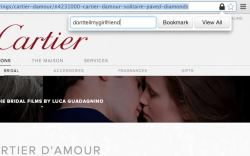 Private browsing has its own perks. First of all, it won't store your browsing history so there's no need to manually erase the sites that you've viewed or visited. Furthermore, you can use it to keep others from tracking down your browsing activity especially if someone else uses your computer. However, it also has its own share of downsides. Like, for example, you can't use it to bookmark pages that you don't want to appear on your bookmarks manager. Well, there's an easy solution to that. You just need a private bookmarking tool like Hush.
What is it and what does it do
Main Functionality
Hush is a free browser extension for Chrome that also works on Firefox. Its main function is to act as your private bookmarking tool so you can save private bookmarks even while you're browsing pages on incognito mode. Simply put, your bookmarks will be encrypted and secured with a password. It should also be noted that the said extension will only work while you're on private browsing mode. You can also organize your bookmarks by using different passwords.
Pros
User-friendly, non-obtrusive
Neat and simplistic UI with basic tools and options for organizing your links and bookmarks – ex. edit bookmark, delete bookmark, reorder bookmarks, etc.
You can create multiple sets of bookmarks behind different passwords – just assign a different password for each set
It only runs on incognito mode so it won't interrupt with your normal browsing sessions (permission to run in incognito is required)
Supports data import/export
Cons
You cannot change or update the passwords for each set of private bookmarks
Since the extension doesn't provide any option for automatic data backup, you need to manually create a backup file for your data or else, all of your private bookmarks will be gone if ever someone decides to remove the extension from your web browser.
Discussion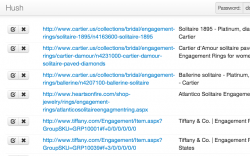 I find Hush for Chrome quite easy to use. After you install it from your browser, make sure that you allow it to run on incognito mode or else, the extension won't work. After which, open your incognito window and try to browse for sites that you wish to bookmark (ex. a link to a gift item that you found on Amazon). While you're at it, notice that there's a black lock icon on the right side of your address bar. This is the icon that you need to click every time you want to save a page or link as a private bookmark.
If you click on the icon, you will be prompted to enter a password. Remember, Hush allows you to create multiple sets of private bookmarks through different passwords. So try not to forget the passwords that you've assigned for each set. To be safe, save your passwords for Hush on your password manager.
Moving on, the page that you want to bookmark will be saved as soon as you click the "Bookmark" button. If you want to view all of the bookmarks that you've saved, just enter the password for your desired bookmarks set then click the "View All" button.
Functionality wise, I don't have any serious issues with this extension. I also like the way that it works. It is simple and straightforward. Appearance wise, I like the fact that it's non-obtrusive plus it flaunts a neat user interface. It also provides the basic tools that you need for managing your bookmarks. You can also import/export your bookmarks just in case you want to view them on another computer.
It's just that with Hush, there's no way to change or update the password that you've already assigned for each set of bookmarks. There's also a tendency for all of your private bookmarks to be lost if ever someone else decides to remove the extension without your permission. If you don't want this to happen, you can always opt to manually save a backup copy of your secure data along with your password.
Conclusion and download link
I like Hush because it's simple, secure and convenient to use. It is great for users who are always browsing the web on incognito mode. It can also help you bookmark the gifts or items that you want to secretly buy for someone without you worrying that they might accidentally discover your surprise. It's also great to know that this extension works on Firefox. So go ahead and check it out.
Price: Free

Version reviewed: 0.1.7

Requires: Google Chrome, Mozilla Firefox 19.0 – 25*

Related Posts