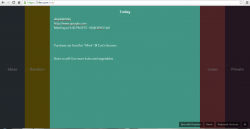 Why create different notes in multiple windows when you can actually list and save all of them at once? It's just that most note-taking apps don't support this kind of feature. If you want to create multiple notes, you'll need to create them one by one. Well, if you use 5iler, then things could go the other way around.
What is it and what does it do
Main Functionality
5iler, pronounced as "filer", is a notepad that is intended to help you work with up to five simple, repurposable files. It flaunts a neat, minimalist, responsive and colorful five-column user interface. By default, the columns are labeled separately as ideas, random, today, learn and private. However, you can customize the label for each column according to your liking. Plus, each column flaunts a different color so it's easy to organize your files. Another interesting thing about this notepad is that it supports keyboard shortcuts. As of now, 5iler is available as a free web app. You can also download its desktop version for Mac.
Pros
Easy to use
Flaunts a simple and minimalist five-column UI
Neat, stable and responsive
You can organize your notes and files using custom labels and colors
Syncs with Dropbox
Supports keyboard shortcuts
Suitable for simple and fast note-taking
Cons
Since the notepad is basically stripped down with advanced features, you don't get many options so you can't edit text/notes in WYSIWYG format. There is also a tendency for you to lose your files/notes if you don't opt to sync your data with Dropbox.
You cannot change the color of each column. There's also no way to directly save each column as a separate note or file.
Discussion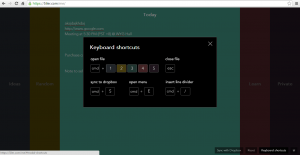 The way I see it, the main objective of 5iler is to let you work simultaneously with up to five different notes or files. Apparently, its minimalist user interface is designed for that very purpose.
It flaunts up to five columns, each of which has a different color and label. You can also customize the labels according to your own liking. You can also create repurposable files – files that you can easily share, reuse or save as a different file or document.
Practicality wise, 5iler will definitely come in handy as it could act as an extension to your clipboard. You can use it to keep random notes, ideas, contact numbers, site or contact addresses and other bits of essential info.
Speaking of which, links don't really work well with this web app. You can just paste the URL but it's not clickable. The same goes with other functions and elements. You can't use this notepad to insert photos, audio clips, zip files, etc. This is mainly because 5iler lacks support for rich text formatting. It doesn't allow you to create and edit notes via WYSIWYG editor.
On the brighter side, 5iler supports Dropbox sync so you can easily backup your data. It also supports keyboard shortcuts so you can easily open and close each column just by clicking the "Ctrl + 1, 2, 3, 4, 5" and "Esc" buttons on your keyboard. The numbers in the Ctrl command represents the number of the column that you want to open.
All in all, I can say that 5iler has its own share of advantages and disadvantages. You'd have to trade one for the other. If you wish for simplicity, you'd have to settle down with the web app's limited set of tools and features. Nonetheless, it can come quite in handy especially if you're dealing with multiple tasks.
Just remember, this web app is bound to use your browser's local storage to store your notes. If you don't opt to sync your data with Dropbox, then there's a tendency for you to lose all of your files as soon as you clean your browsing history and web cache. Apart from this, 5iler also lacks the option to directly download and save the notes that you've placed in each column as separate files. It would be nice if this feature could be added even if it's just optional.
Conclusion and download link
I like 5iler mainly because of its simple and straightforward approach for taking notes. If you like to multitask, then this web app can definitely help you especially if you frequently take notes. It also serves as a good alternative for those messy sticky notes. It's just that if you opt to use this app, then don't expect that it would come with elaborate or advanced tools and features like those that you can find on Google Keep and Evernote.
Price: Free

Version reviewed: 1.2

Requires: Works on any web browser (ex. Chrome, Firefox, Safari, Opera, IE, etc.)

Related Posts