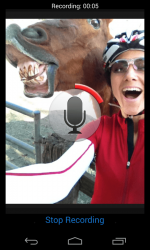 In Android, there are all sorts of apps that you can use to share and edit photos. There's Instagram, SnapChat, Vine, etc. Of course, each app has its own set of notable features which makes it stand out from the others. As for those who wish to turn their photos into interesting stories, then you can try out this free Android app called "SpeakingPhoto".
What Is It and What Does It Do
Main Functionality
SpeakingPhoto is a free Android app that you can use to transform your photos into interesting stories. Simply put, this app lets you add a 30-second voice note to your photos so you can share and cherish your moments in a more creative and unforgettable manner. You can also share the "speaking photos" that you've created on other sites such as Instagram, Facebook, YouTube and Twitter.
Pros
Easy to use
Fast, stable and responsive
Neat UI
Customizable settings/options
Aside from taking photos using your device camera, you can also choose to create "speaking photos" out of your existing photos
You can share your photos to others – via Instagram, Twitter, Facebook, YouTube, etc.
You can share your photos to the app's public gallery
You can preview your "speaking photos" before sharing
Cons
No support for landscape mode
Discussion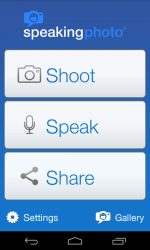 If you are creative enough to think of new ways to share your photos, then you can definitely give this app a try. With SpeakingPhoto, you can make your photos more interesting by turning them into stories.
How? Well, all you need to do is to snap a photo using your device camera and then you record a 30-second voice clip. The voice clip will then be added to your photo so every time that you view that photo, you'll also be able to listen to your short voice recording. It's as easy as that. Moreover, this app will also allow you to create all sorts of "speaking photos" out of the existing images in your gallery.
With this app, you can easily share your picture stories to others so they also get a glimpse of those precious moments in your life. You can even share your picture stores to Facebook, Twitter, YouTube and Instagram.
Anyways, what I like about SpeakingPhoto is that it's very easy to use. On its main menu, you only get to choose among its three core features – Shoot, Speak and Share. If you choose "Shoot", then you can take a picture first before you record. If you choose "Speak", then you can just select an existing photo from your gallery before you add your voice note. As for "Share", it is where all of your "speaking photos" are stored. It is also where you can choose the photos that you want to send or share to others.
Another thing that I like about this app is that you can customize its settings. You can also explore its public gallery. The public gallery is a place where the app's users can share their photo stories to everyone. You can also search the gallery by using a specific hashtag. If you want, you can also opt to view the photo stories on your web browser.
Functionality wise, I don't really have any serious concerns regarding this app. It does its job well without any annoying bugs or errors. Plus, it doesn't lag or crash. As a matter of fact, I find it very stable and responsive. I also like the fact that it lets you preview your photo stories. The only downside to this app is that it doesn't support landscape mode.
Nevertheless, SpeakingPhoto proves to be reliable enough for you to use on a regular basis. It will also come in handy especially if you're looking for an app that can quickly share photos with embedded voice recordings. Just keep in mind that you can only add a 30-second voice note to your photo. If you exceed this time, then the recording will automatically stop.
Conclusion and Download Link
SpeakingPhoto for Android offers a clever and creative way for you to relive your special moments through picture stories. With it, you can easily add voice notes to your photos. No need for advanced video editors. So if you still haven't tried this app, go ahead and feel free to check it out.
Price: Free
Version reviewed: 1.0
Requires: Android 4.0 and up
Download size: 21MB
Related Posts