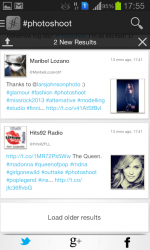 Nowadays, hashtags are not just being used to sort out topics and posts. They are also being used to organize events, promote a product, launch a trend and even start a stream of conversations. In short, hashtags are everywhere but you can mostly find them on Instagram, Facebook, Google Plus and of course – Twitter. Speaking of which, you might want to check out this interesting app called Hashtagger.
What Is It and What Does It Do
Main Functionality
Hashtagger is a free app for Android that lets you search your favorite social media networks such as Google Plus, Twitter and Facebook in just one place. It is a platform that primarily focuses on search topics and hashtags so you can easily keep track and join in with the latest trending topics and conversations. So if you want to search for inspiring quotes on all three sites, just search via Hashtagger and the results will be shown simultaneously. No need for you to switch from one app to another.
Pros
Easy to use
Lets you search for topics and hashtags in three different places or sites (Facebook, Google Plus and Twitter) at once
You can save your search keywords for future use
Shows you the latest trending topics worldwide as well as those within your area
Automatically updates your stream with the latest trending topics and posts
You can clear your search history
You can download and save the photos that are attached to the tweets/posts
You can reply, favorite or retweet a post right within the app (only works on Twitter)
Cons
The app's current features and options still needs further improvement
There's no way to adjust the text size for the search results
You cannot search for topics or tags unless you log in to any of the three supported sites/social networks
Discussion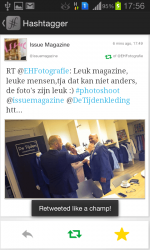 The way how Hashtagger works is quite simple. Once installed on your phone or tablet, just launch it then go to its settings page to choose the sites or social networks that you wish to use. As of its current version, the app can show you results from Twitter, Facebook and Google Plus. Thus, all you need to do is to log in to any of these three supported sites and you're all set to begin your search.
Once you're logged in, simply type the keyword or hashtag that you wish to search then press "Go" or "Enter". The results will then be shown on all of the sites that you're currently logged in to. Just select the site that you want to view and the results will be immediately shown.
Another notable feature of this app is that it can automatically update your results without refreshing the page from time to time. You can also expand a result by tapping on it. If you are viewing the results on Twitter, then you're also allowed to reply or mark a tweet as favorite. You can even retweet the post. As for Facebook and Google Plus, you're only allowed to expand the post and view the replies, likes, etc.
If you swipe to the left side of your screen, the app will show a list of the most recent trending topics. Just click on a topic that you wish to explore. You can also opt to save a topic or hashtag so that you can use it for later.
Functionality wise, Hashtagger shows some promising features but it can still be improved in many ways. Like, for example, it could improve the way how its users scroll through its results. It would also be great if this app would add more functions like the ability to like, share or repost the results from Google Plus and Facebook. It should also be noted that this app is mainly for intended for search so you cannot use it to post a tweet or status. It also needs to improve the way that it filters its search results.
Conclusion and Download Link
Hashtagger appears to be a fairly useful app that you can use for searching the latest trends and topics on Facebook, Google Plus and Twitter. Even so, it can still improve its features in such a way that it could provide a better user experience. So if you frequently use the above mentioned sites to get various updates, go ahead and feel free to give this app a try.
Price: Free
Version reviewed: 1.0.2
Requires: Android 4.0 and up
Download size: 1.2MB
Related Posts