Whatever your reason is for deleting your Instagram account, the main question is – do you actually know how? As you can notice on your Instagram app, there's no option provided for deleting your account. Now, you feel lost. You aren't really sure what to do but there's no need for you to fret because in this post, you will be able to learn how to permanently delete your Instagram account.
Delete an Instagram account – The Steps
Step One
Open your web browser of choice (ex. Chrome, Firefox, etc.). If you want, you can also use your phone or tablet's mobile browser.
Step Two
Go to instagram.com, the web version of Instagram.
Step Three
Log-in to Instagram for Web using the username and password of the account that you wish to delete.
Step Four
On the top-right portion of your Instagram web profile, click your username and then go to "Edit Profile". After which, scroll down to the bottom portion of your "Edit Profile" page and look for the "I'd like to delete my account" link. Click on it and then fill out the "Before you go, please tell us why" section. Just click the drop-down menu and enter the reason why you decided to delete your Instagram account.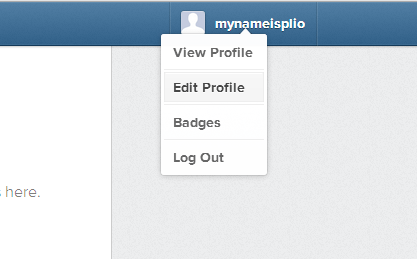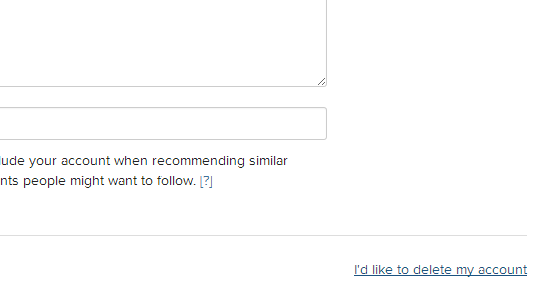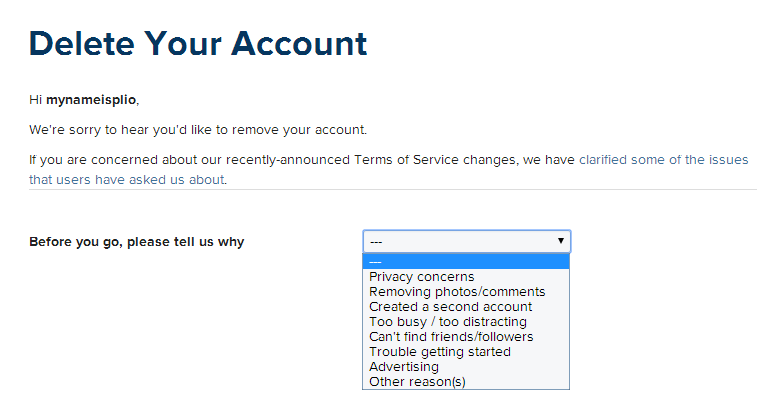 Step Five
Re-enter your account password to confirm your account deletion request. Keep in mind that by doing so, you are allowing Instagram to permanently delete and remove your account. This also means that all of the photos, comments, likes and other activities that you've made using the account will be deleted. They cannot be restored.
You also won't be allowed to register using the same username but you can register using the same email.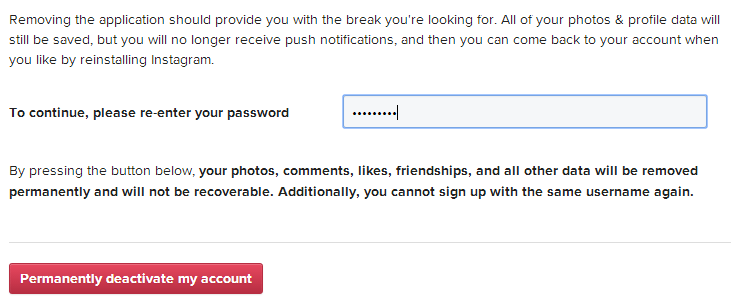 Step Six
Click the "Permanently deactivate my account" button. A dialog box (small pop-up window) will appear. Just click "OK" and wait until you get redirected to the account deletion confirmation page. That's it. You're done.
Related Posts