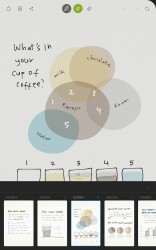 If you go to the Play Store, you can find a wide variety of apps for drawing, sketching and writing notes. Apparently, each app differs in terms of features and functionality. Speaking of which, Bamboo Paper is a classy-looking notepad and drawing app that comes from Wacom – one of today's leading manufacturers of pen displays and graphic tablets. Now, let's find out if it can really live up to your expectations.
What Is It and What Does It Do
Main Functionality
Bamboo Paper defines itself as an app that can turn your device into a paper notebook. In other words, it's basically a notepad, drawing and sketchbook app. It also flaunts a classy yet simple and straightforward user interface. With this app, you can do a lot of writing, drawing and sketching. You can even customize your paper notebooks by changing their paper types and covers.
Pros
Elegant UI
User-friendly
Neat, stable and very responsive
Customizable paper notebook covers and paper types
Features a wide range of tools for writing, drawing and sketching – ex. pen type, pen tip size, ink color, eraser, clear page, undo, redo, full screen view, etc.
You can insert images to your notes
Built-in sharing options – instantly share your notes and sketches via Bluetooth, Gmail, Facebook, Twitter, etc.
Built-in zoom function
Cons
Lacks support for automatic data backup and sync
Lacks support for keyboard typing
Needs to add more tools and options
Discussion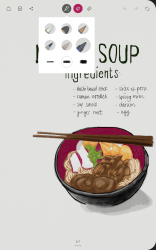 What I like most about Bamboo Paper is its stable, responsive and elegant-looking interface. It makes it even easier for you to draw on a digital canvas plus, it's also great for writing down notes. Besides, the app is simple and straightforward enough to cater to users of all levels.
Appearance wise, Bamboo Paper is definitely one of the most elegant notepad apps that I've ever seen and tried. You can even customize the appearance of your notes by choosing your desired notebook cover and paper style. You can also rename the title for each note. If you want to draw or write without any distractions, then you can opt to set the app's working area to full screen.
Functionality wise, the app can certainly provide you with the essential tools that you need for drawing, sketching and note-taking. As a matter of fact, it has a total of six pen types. You can customize each pen by choosing your preferred pen tip size and ink color. Apart from this, the app also supports image annotations. You can even opt to "zoom" the app's notebook pages for a closer view and drawing precision.
All in all, Bamboo Paper closely resembles the way how you normally write or draw on paper. Even so, it can still be improved in many ways. Like, for example, the current version of the app only supports handwriting and stylus input. Therefore, you can't enter any text on it by typing on your on-screen keyboard. Aside from this, the app also lacks support for automatic data backup and sync. It also makes it difficult for its users to determine the location where their notes are stored. The only related option that it has is file sharing which isn't really of a big help unless you opt to send or share your notes as photos. This is quite a bummer since there's no way for you to set up some precautions just in case something bad happens to your device which could lead to complete data loss. I also noticed that the app lacks a lot of good ink colors. The red color is also missing from the list.
Anyways, Bamboo Paper clearly stands out despite the fact that it still lacks in many aspects. It also works best if you have a good quality stylus pen.
Conclusion and Download Link
Bamboo Paper may not have all of the tools and features that you want but it is very responsive, stable and precise. It makes it really easy for you to draw and write. Plus, it flaunts a user-friendly and elegant UI. It's still far from perfect but that doesn't mean that it's not good enough for you to use on a daily basis. It's also very good for drawing and sketching so go ahead and check it out.
Price: Free
Version reviewed: 1.0.0
Requires: Android 4.0 and up
Download size: 46MB
Related Posts