If you think that the "try before you buy" concept can only be applied to tangible items such as gadgets and apparels, well, it's not. As a matter of fact, such concept can also be applied to web fonts. If you are someone who is constantly in the lookout for cool, new and elegant fonts, perhaps you should consider checking out this free web application called "WebFonter".
What is it and what does it do
Main Functionality
WebFonter is a free web-based app that lets you try a font on an actual website or blog. The concept is similar to the "Preview" option that you can usually find in WYSIWYG editors. The good thing about this web app is that you can try or preview the fonts first before you decide to make a purchase. It should also be noted that all of the fonts provided by the web app comes from FontShop – one of the web's leading marketplace for free and premium fonts.
Pros
Handy and easy to use – works on any web browser such as Chrome, Safari and Firefox
Works on almost any type of sites – even those with the most complex frameworks, also works on sites that are running on local and private servers
Lots of free and premium fonts to choose from
You get to preview the fonts in real-time setting – the preview can be applied to body fonts and headers
You can tweak the font size, line height and letter spacing
Built-in search option – you can also mark a font as "favorite"
Cons
You cannot preview fonts according to your desired color
There's no way to sort out web fonts by price or format compatibility
Exclusive for FontShop
Discussion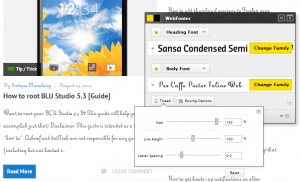 The first thing that you should know about WebFonter is that it's a web app provided by FontShop. Therefore, you cannot use it to preview fonts from other shops or online sources. Second, not all of the apps that you try are available for free. There are free fonts and there are also premium fonts.
In addition, WebFonter is a versatile web app that works on any type of browser. As a matter of fact, you have three ways to use the app. If you are using Chrome, then you can install the app's browser extension. You can also choose to use the web app's bookmarklet which is more suitable for other types of web browsers such as IE, Safari, Opera and Firefox. If both options don't suit you, you can always opt to preview the font directly from the web app.
To use WebFonter, you simply need to install the extension or bookmarklet to your web browser. After that, just click on it. It will display a new window on top of the site or page that you are currently viewing. You will then see two sections – one for the heading font and one for the body font. Just click on the "Change Family" option to change the font's family.
After which, another overlay window will appear. It will display all of the font families that are available on FontShop. Just choose the font family that you like. You can also sort them out by popularity or category. There's also a search tool that you can use to search for a specific font.
After choosing the font family that you like, you can choose to close the second overlay window or keep it minimized. Now, go back to the first overlay window and choose the font style that you like. The changes will be automatically applied to the site or page that you are currently viewing. Once you've found the font that you like, simply click the "Buying Options" button underneath the font sections. You may then choose to download or purchase the font in its available format.
All in all, WebFonter is a decent tool that you can use to try out the fonts that you've found on FontShop. While the shop itself has a lot of impressive fonts to offer, it could've been much better if the app isn't exclusive to one shop. You can't use it to try out other fonts that you've found on other shops. Furthermore, there's also no way for you to preview the fonts according to your desired color. There's also no option for sorting out fonts by price or format. So, unless you go to the actual font site, there's no way for you to know if the font is free or compatible with other platforms such as Mac or Windows.
Conclusion and download link
If you do not mind the web app's exclusivity to FontShop, then you can certainly put it to good use. It's a very decent and handy tool for trying out various fonts. It may lack in certain aspects but it's definitely worth a try. So go ahead and check it out.
Price: Free

Version reviewed: N/A

Requires: Works on any web browser (Chrome, Firefox, Safari, Opera, etc.)

Related Posts