Why carry a bulky dictionary when you can simply use an app? Speaking of which, there are a lot of good dictionary apps for Android that you can download for free. Some of these apps can even work offline so you can still look for word meanings even if your phone or tablet doesn't have an active connection to 3G, 4G or Wi-Fi. As for those who are currently looking for a reliable offline dictionary app for Android, you might want to check out this app called "Define".
What Is It and What Does It Do
Main Functionality
Define is a free offline dictionary app for Android. Furthermore, it also works as a floating dictionary so you can easily access it from any screen or app. In other words, the app adds a floating icon to your screen so you can look for word meanings while you're browsing the web, reading an e-book or writing some notes. Of course, you can also perform a direct search within the app's database. You just need to type the word in the search box. The app will then display the most relevant words together with their definitions.
Pros
Simple and easy to use
Clean UI, responsive and stable
Users can search right within the app. They can also opt to enable the app's floating icon (search from any application).
Offers clear-cut word meanings/definitions
Works offline – no Internet connection is required
Home screen widget support (lets you search directly from your home screen)
If the app fails to find the word from its offline database, it will automatically search for the word online (only if there's an active Internet connection)
Cons
While the app is already good enough as it is, it could still use some additional features and options. It would also be great if it gets to add more details to its word definitions.
Discussion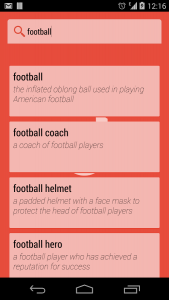 The way how Define works is quite simple. Speaking of which, this app works in two ways. Therefore, you have the option to search for word definitions right within the app or search from any application. The first option is quite understandable. You get to type the word that you're searching and the app will give you a list of relevant results. So if you want to know the definition of "poach", simply type the word on the search box and that's it. The results will be displayed immediately. It's very convenient and fast.
As for the second option, you can make use of the app's floating icon to search for word definitions while using another application. Since the icon floats on top of your screen, you can just leave it there and use it whenever you need to find the meaning of a certain word. Like, for example, you're reading a web article and you found a word that you don't quite understand.
So if you want to look up for its word meaning, just highlight and copy the word then tap the floating icon for Define. After that, the meaning of the word will be immediately shown on your screen. Just be quick because the app will only display the word meaning for a few seconds. There's also no way for you to delay the message pop out time.
Apart from this, it's also good to know that this app works offline. Therefore, you can use it even if you're device doesn't have an active Internet connection. It will also come in handy to those who likes to read books while travelling as well as to those who are constantly studying to improve their English vocabulary.
All in all, I can say that Define is a good app. It is also fast, stable and responsive. Plus, it flaunts a simple yet user-friendly UI design. It's just that its current set of features could still be improved. Speaking of which, it would be great if the app gets to add more details to its word definitions so that users would know whether a word is a noun, verb, adjective, etc.
Conclusion and Download Link
If you're just looking for a simple floating dictionary app that can work offline, you can definitely give this app a try. With Define, you can easily get clear-cut definitions of the words that you aren't familiar with. It's also fast, stable and free from glitches and errors. So go ahead and check it out.
Price: Free
Version reviewed: 1.0
Requires: Android 3.0 and up
Download size: 5.9MB
Related Posts