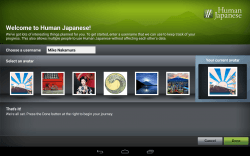 Do you want to learn how to read, write and speak Japanese? Well, if you don't have time to go to a foreign language school, you can always look for alternative learning resources. As a matter of fact, there are lots of free Japanese lessons online that you can take at your own pace. If you want, you can also learn Japanese straight from your Android smartphone or tablet. You just need an app like Human Japanese to get started.
What Is It and What Does It Do
Main Functionality
Human Japanese is a Japanese language learning app for Android. It has three versions in the Play Store – one is free while the other two are paid. Speaking of which, the free version of the app covers the first eight chapters of the entire Japanese language learning course. The rest of the chapters can be found on the app's paid versions. In addition, this app takes a different approach in teaching Nippongo. So instead of the usual canned phrases and vocabulary, you get to learn Nippongo through recordings, photos, reviews, animations, games, quizzes and exciting discussions.
Pros
Rich UI, user-friendly
Comprehensive lessons with chapter reviews and challenging quizzes
Each chapter is presented in a way that's super easy to understand. There are also illustrations, recordings, translations and word sounds.
There are animations for every hiragana and katakana characters presented (the app shows you how you to do the strokes and so on)
You can add notes and bookmarks
Users can gain experience points to level up and increase their rank – you can gain experience points for answering chapter reviews and quizzes
Customizable user preferences
Works offline
Cons
Discussion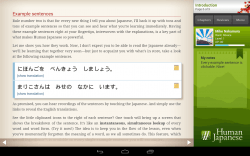 One of the main advantages of the Human Japanese app is that it's mobile. You can learn Nippongo straight from your mobile device so it doesn't matter where you are or what you are doing. You can learn Japanese during your break time or while you are at home doing nothing and feeling bored.
Aside from this, the app itself is made up of comprehensive lessons. Each chapter is comprised of a lesson that does not only introduce the core elements of the Japanese language but also the Japanese culture. In short, it's like you are being introduced to Japan as a whole as you gradually get to know more about the way they greet, how they write, how they speak and so on.
There's also the part wherein you need to complete the chapter review and the quiz before you can proceed to the next chapter. Mind you, as you move from one chapter to another, the level of difficulty for each quiz also increases. Therefore, you really have to devote your time in studying or else, you'll get stuck on the same chapter and you won't even get the change to increase your experience points.
Speaking of which, Human Japanese is not only comprised of lessons. It also has a ranking and reward system. So as you advanced to the next lesson, you gain experience points which is necessary to increase your level. As your level increases, your rank also gets higher. This is really a good way to engage users to learn the language. It's fun and innovative so you'll never get bored.
That's not all. The app also presents each lesson with illustrations, recordings, character stroke animations and so on. You can also add notes and bookmarks. Just keep in mind that if you are using the free version of the app, then you can only go as far as Chapter Eight. After that, you need to purchase the app's full version.
All in all, I can say that Human Japanese is truly a remarkable app that can help you learn Japanese in a fun and innovative way. It's also challenging since you will not be spoon-fed at all times. You really need study each lesson well in order to advance. It's also good to know that this app can work offline. I also don't have any serious issues with it as it is very stable and responsive. It doesn't lag.
Conclusion and Download Link
Human Japanese is definitely one of the best mobile apps for learning Japanese. I would even recommend that you purchase its paid version to gain access to the rest of its chapters. So go ahead and feel free to give it a try.
Price: Free, Paid – $9.99
Version reviewed: Varies with device
Requires: Varies with Device
Download size: Varies with device
Related Posts