A lot of celebrities use social media to connect to their fans. They post photos, videos, status updates and even join in various social media activities such as the recent ALS Ice Bucket Challenge. So if you're someone who likes to keep yourself up-to-date with the latest celebrity news and updates, you might want to consider checking out this app called "WhoSay".
What Is It and What Does It Do
Main Functionality
For the past two years, WhoSay has been one of the web's most reliable portals for celebrity news and updates. Now, it has finally made its way to Android so you can easily follow the accounts of your favorite celebrities using your tablet or smartphone. In other words, WhoSay is like an exclusive social media hub for actors, athletes, singers and other famous celebs. It's like the Facebook for celebrities with fun polls, videos, photos and interesting articles.
Pros
User-friendly
Neat, stable and responsive UI
Offers lots of verified talent accounts from actors, athletes, singers, writers, etc.
Offers the latest content, news and updates about your favorite celebrities
You can track the latest and most popular happenings through "Trends"
You can follow your favorite celebrities through their official accounts
Features various celebrity polls and videos
Users can interact with their favorite celebrities through likes and comments
Users can share the posts and stories about their favorite celebrities to other social media networks such as Facebook, Twitter and Instagram
Customizable user preferences
Cons
No search filters – you can't limit search results and show just the celebrities, posts, photos, videos or projects
There's no way to mark a post or story as "favorite"
You can't delete or edit your comment
Discussion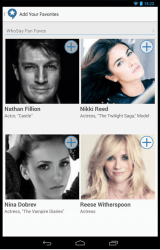 With WhoSay, celebrities have their own talent accounts. It's an app where you can get the latest stories and updates about your favorite actors, athletes, singers and other TV and media personalities. You can join the app as a user but you can't have your own profile. The celebrity profiles that you can find on the app are authentic. Therefore, there's no need for check whether a profile is verified or not.
Just like other social media communities, WhoSay allows you to follow/unfollow celebs. To follow a celebrity, just click on the plus icon that appears on the top-right corner of a celeb's profile. As a member of WhoSay, you get extra privileges such as liking and commenting on a celebrity post. You can also share their posts and stories to other social media platforms such as Facebook, Twitter and Instagram.
That's not all. You can also vote in polls, read the latest celebrity scoops and watch their videos. You can also stay up-to-date with the latest trends and get the freshest updates delivered straight to your timeline.
One of the best things about WhoSay is that it's exclusive for celebrities so your feed doesn't get mixed up with random posts from regular users. It also flaunts a simple and user-friendly UI. The way it works is also very similar to today's various social media apps. You can also connect the app to your Facebook, Twitter or Google Plus account.
So, if you're someone who likes to follow your favorite celebrities such as Channing Tatum, Seth Green, Anne Hathaway, Jeremy Renner, Nina Dobrev and Bruno Mars, you'll definitely like the WhoSay app for Android. It may have its own share of downsides, such as the lack of option for deleting or editing your comments on celebrity posts, but it's already a very solid app. It also has a lot of exclusive content to offer to its users. So far, I haven't encountered any serious issues with it such as lags and forced closed errors. Nonetheless, it would be great if users can filter their search and mark a post or story as "favorite".
Conclusion and Download Link
WhoSay is definitely a must have app for avid celebrity followers. It's a go-to app for users who wants to get exclusive posts, articles, behind-the-scene footages, photos and videos from their favorite celebs. Most importantly, all of the celebrity profiles that you can find on the app are authentic. No posers. No fake accounts. So go ahead and check it out.
Price: Free
Version reviewed: 1.2.4
Requires: Android 4.0 and up
Download size: 5.6MB
Related Posts