Most browsers have a few keyboard shortcuts for tabs. With keyboard shortcuts you can open new tabs or close them. However, browsers don't include hotkeys that move the tabs on the tab bar.
Nevertheless, with the MoTa extension we can move Google Chrome tabs with keyboard shortcuts. You can add it to the browser from this page. There click on the + Free button, and then restart the Google Chrome browser.
After the restart, open a few page tabs in Google Chrome. Then select a page tab and press Alt + H to move a selected tab to the left. Note that the hotkeys don't move the New Tab pages. To move a tab to the right, press Alt + I.
You can move the tabs to the start of the tab bar at the far left, or alternatively the far right. Press Alt + 0 to move the current tab to the far left of the bar. To move current tabs to the far right, press Alt + $ (or 4 key).
The extension doesn't include any further options. To open a full list of the keyboard shortcuts, enter chrome://extensions in the address bar. Scroll down to the MoTa extension and click Options. That will open the page in the shot below.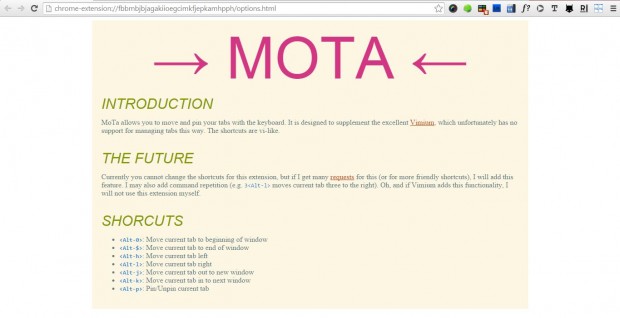 At the moment you cannot customize the MoTa tab hotkeys, but the developer says he might add further options to it. Nevertheless, MoTa is still a handy addition to Google Chrome that further expands the browser's keyboard shortcuts.
Related Posts