In Chrome, you can use keyboard shortcuts to quickly open and close tabs. It's a convenient option but what if you overdo the pressing on your keyboard and you unintentionally close all the tabs? It's going to be very troublesome because Chrome is also set to close whenever you close the last tab.
To prevent your browser from closing, you can configure it to keep the last two tabs. Just skip past the break to learn how.
How to always keep the last two tabs open in Chrome
In Chrome, you need to go to the Web Store to download and install an extension called "Keep Last Two Tabs".
Once installed, the extension will not add its icon to your browser's omnibar. Therefore, you will need to go to your browser's extensions page (go to Settings > More Tools > Extensions) to update its options.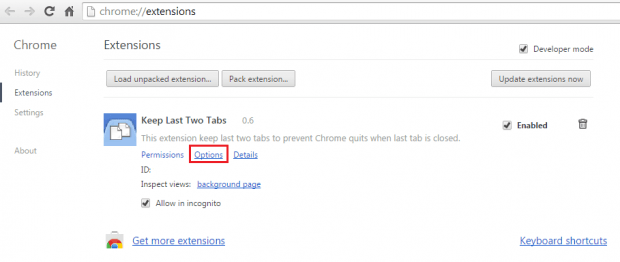 In the options page, you can check or uncheck the items on the list. You can also leave the default options as it is.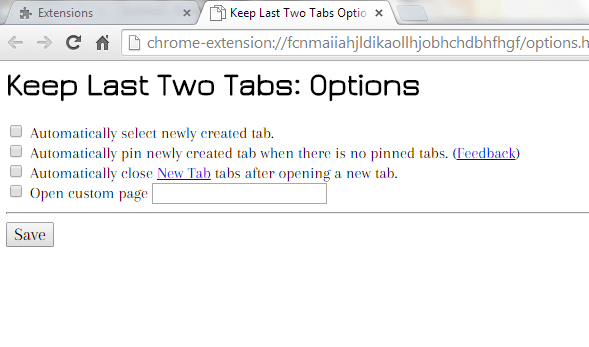 Do not forget to click "Save" to save the changes that you've made.
So what's next? Well, you can test out the extension by attempting to close all of your open tabs in Chrome. As you can notice, your browser will no longer allow you to close the last two tabs. Even if you click the "X" mark on the last two tabs, they will still remain active and open.
In addition, you can also configure to extension to automatically set your newly opened tab as a pinned tab (only if there's no pinned tab available).
Why two tabs and not one?
As mentioned in the extension's Web Store page, intercepting the last tab requires Javascript injection into web pages. Therefore, it's not possible to keep the last tab open without a second tab.
Related Posts