When signing up for newsletters, you are usually asked to enter your email address. The thing is not all newsletters are legit. Some are just spam. Therefore, it would be wise to scrutinize every newsletter that you sign up for.
Speaking of which, one good way to avoid getting a lot of spammy newsletters is to use a separate email address or mailbox. In this post, you will learn a simple way on how to send all of your newsletters to a separate mailbox. No need to provide your real email address. You also don't need to create a new one. This method will work regardless of the web browser that you're using. It can work on Chrome, Firefox, Safari, Opera, etc.
How to get a separate mailbox for newsletters
Click this link to go to the homepage of "Closetoshop" – an easy-to-use tool for managing your newsletters.
Once you're on Closetoshop, click "Sign up for FREE" and then sign up by providing your email address and password.
Confirm your sign up by checking and clicking the tool's verification link on your email inbox.
Next, you'll need to show your bookmarks toolbar on your web browser. If you are using Chrome, just press "Ctrl + Shift + B" or simply go to your Chrome Menu > Bookmarks > Show bookmarks bar.
Drag the Closetoshop bookmarklet (look for the "@cts.lu" button) to the bookmarks bar.
In a new tab, go to any website or blog that offers newsletter subscription.
On the blog's subscription page or section, click the "Enter your email address" field but don't enter your email address. Instead, click the Closetoshop bookmarklet.
In the dialog box that appears, click "OK" to confirm.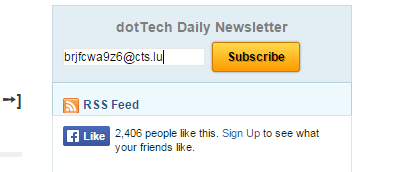 As you can notice, Closetoshop has automatically filled the email address field for you.
Confirm your subscription by clicking the "Subscribe" button.
After that, Closetoshop will only send one email a day to your real email address.
If you open that email, you'll be able to view all of the newsletters that you've received for a certain period of time. Just click any of the items to open the newsletter in a separate page.
That's it. You're done. You can also watch this video for a more detailed guide.
Related Posts