The last two major software updates for Apple's iOS have proved difficult to crack. The same old trusty group of guys including Pod2G struggled immensely to publicly release anything timely. That opened up the doors for a group of students from a Stefan Esser class to come up with the Pangu jailbreak release. Since then we have had several Pangu releases and today a new tool is up for grabs called PP jailbreak.
The PP jailbreak is of Asian decent once again just like Pangu which makes it difficult for us English-first speaker to grasp what's on the screen. That doesn't matter for you, though, because we have the step-by-step guide which you can follow that comes with detailed explanations for the right buttons to press.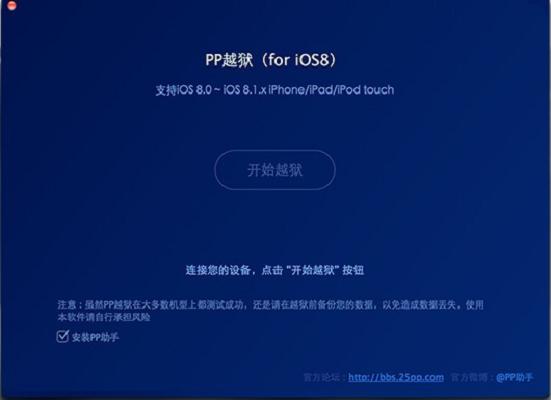 REQUIREMENTS
The guide works for the iPod touch 5, iPad 4, 3, 2, iPad mini 3, 2, 1, iPad Air 1 and 2, iPhone 4S, iPhone 5, iPhone 6 and the iPhone 6 Plus. That's all the devices that run iOS 8 smoothly. Likewise, you must be running a version of iOS 8. It can be up to the most recent iOS 8.1.2 firmware. Also, you can only use the guide for Mac OS X operating system above 10.7.
BEFORE WE BEGIN
You'll need the USB cable for connecting the device to the computer.
Backup the data using iTunes or iCloud.
Turn off "find my iPhone"
Turn off the passcode for unlocking the device if it is operating.
Disable the Touch ID if you are using the new iPhone.
HOW TO JAILBREAK IOS.8.1.2 ON MAC OS X WITH PP JAILBREAK
Download the PP jailbreak tool here.
Unmark the box in the bottom left corner that says "PP" next to the Chinese writing.
Connect the device to the computer.
Click the large jailbreak button near the center of the screen.
Follow it through to the next screen and click the button on the right.
– there is two buttons on this page. Do not click the button on the left.
Wait patently for the jailbreak to flash your device.
You are now running with the Cydia app.
I've included the screenshot that you'll see after downloading the program to the computer. Now you can see the boxes I'm describing during the steps. You don't need to notice anything on the screen apart from the button and the small box with the tick.
Related Posts