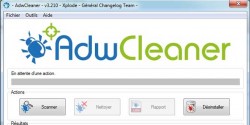 The Desktop Doc adware is a nasty infection that comes inside of other files and packages that you might have installed thinking they were harmless. Generally, untrusted third-party links that claim to be something they are not are the key reason why people infect themselves with adware. It works by the owners of the Desktop Doc paying people to use their program inside of the files which are getting traffic. Each person that installs the file makes the adware owner pay money to the file owner. Because the ads running on your computer are making money for the owners of the adware program, it's well worth their money to pay for the service.
Adware isn't on your computer to harm you or your hardware. It's made to make revenue from you. Normally we see ads on websites, but what if you don't have a website that's getting traffic? What if you need to install a program that automatically pops-up on people's computers displaying some ads. Well, that's what people managed to create and since they have there's good money in it.
The reason it pays so well is because people don't understand they have adware running. Unless you work on the web or have a deep understanding of websites, you'd think the ads are just there from the site you are visiting. You might catch on if you start noticing the same ads displaying time and time again.
HOW TO REMOVE DESKTOP DOCK ADWARE FROM INTERNET EXPLORER, FIREFOX AND GOOGLE CHROME
Download the Adwcleaner pack here.
Click the icon to start using the program.
Follow the on-screen instructions for starting the scan.
During the scan it might tell you to shut down certain web pages so it can finish.
It will ask to please restart your computer so it can finish and the log files with the full report will be available after you log back into your account.
Turn off the computer or laptop you are using.
Boot it back up again.
Check out the report on the screen.
Related Posts