The default font size and style in Chrome may seem okay for most users but what if you prefer larger fonts and would like to change the font style to your all-time favorite Comic Sans? Well, you can't help it. You no longer have a perfect 20/20 vision to begin with. So instead of going through all the trouble of figuring out what's written on the screen, you might as well decide to change your browser's default font settings.
How to change the default font size and font style in Chrome
First, you will need to enable the advanced font settings option in Chrome. To do so, you must download and install the "Advanced Font Settings" extension from the Web Store.
Once installed, go to your browser's extensions page. Type chrome://extensions on the address bar then press "Enter".
On your browser's extensions page, find "Advanced Font Settings" then click "Options".
On the advanced font settings options page, go to "Proportional Fonts".
Change the default font size by dragging the slider.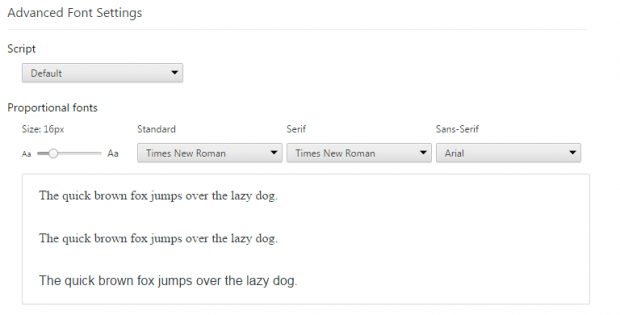 To change the default font style, click the drop-down menu for "Standard" then choose your desired font. Do the same for the "Serif" and "Sans Serif" entries.
You can view the changes that you've made on the preview section.

Scroll down to the bottom of the page and then click "Apply Settings" to save the changes.
If you wish to return the font settings back to normal, just click "Reset all settings" and that's it. You're done.
Related Posts