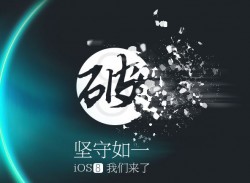 If your iOS device is running the iOS 8.1.2 software update, you probably heard in the early stages not to update as it's not jailbreak friendly. Well, I can tell you know that it doesn't patch the TaiG jailbreaking tool. You can't use the old version of TaiG. However, you can use the updated version. We'll show you how that's done in the step-by-step guide after the jump.
BEFORE WE BEGIN
You must have a computer or notebook with a working USB slot in the side.
You need the computer running a version of Windows operating system from Windows XP and up.
Only TaiG version 1.2.0 works. Do not try flashing any of the previous version as they do not work.
You will need a USB cable to make a secure connection between iPhone, iPad or iPod Touch and the computer.
Navigate to the Settings and turn off the lock screen security until after you finish here. Feel free to turn it back on again once you finish the guide.
HOW TO JAILBREAK IOS 8.1.2 WITH TAIG 1.2.0
Download the TaiG 1.2.0 from this link here.
– remember the file is not for Mac OS X. The developers of the tool do not cater for Max or Linux yet.
Download the file to the desktop of the computer and extract the contents.
Right click the mouse on the executable file and select the run as administrator option.
There's two main boxes on the first screen on the tool: Cydia and 3k Assistant.
Uncheck the 3K assistant box.
Click the big start button and wait for the device to jailbreak.
Do not touch anything until it completes.
After it finishes you'll find the Cydia icon in the app drawer.
Tap the Cydia icon and open Cydia to start installing Winterboard, tweaks and themes.
Related Posts