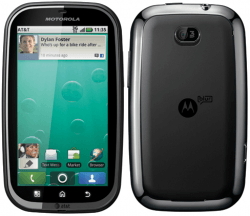 The Motorola bravo is one of the more rounded smartphones you'll see. Most modern-day designs have come with a much more square look, so if you like the rounded edges you might be keen to check this on out. You can apply root by using the Z4Root tool. Those of you want wish to return the phone back to stock Android with the added bloatware can do so by applying the steps below. We are using the same tool which gave you the root access. It's also handy to learn if you are buying another device in future that uses the same rooting tool for breaking away the system internals.
BEFORE WE BEGIN
Battery power is important because you are not staying connected to the computer for the guide. That means you are relying on the handset battery to keep the device on so it doesn't shut down during the flashing.
There's no use starting the guide unless you have root access. If you don't then you are already using the device how to would be after the results are working here.
Check the USB Debugging Mode is enabled from the Settings menu.
HOW TO UNROOT THE MOTOROLA BRAVO
Download the Z4root package here.
Connect the phone to the Windows computer using the USB cable.
Transfer the Z4root file (unzipped) over to the internal SD card memory on the phone.
Unpluigg the Bravo from the computer by taking out the USB wire.
Turn on the Known Sources option from the Phone.
– navigate to menu > Settings > Applications > Unknown Sources
Open the file manager
Tap on the APK file which you transferred over to the SD card.
proceed to opening the file from the menu.
Search for the 'unroot' button from the menu and hit the button to confirm the process.
Do not touch any buttons until it finishes.
Related Posts