By default, the Google Search page results will only show up to ten results per page. If you want to show more results per page, just go to the search settings. Unfortunately, there's a limit. The maximum number of results that you can show per page is one hundred.
If your desire is to get an endless amount of results per page in Google Search, then here's what you need to do.
How enable endless scrolling in Google Search
First, download and then install the "ScrollSearch" extension for Chrome.
After installing ScrollSearch, it won't add any shortcut icon or button to your browser's omnibox. You can enable or disable it by going to "Tools" > "Settings" > "Extensions".
Right after installation, the extension will be automatically enabled so you don't really need to do any additional configuration.
What's next? Just go to Google Search.

Type the keyword or phrase that you want to search on the search box and then press "Enter".
That's it. The endless scrolling feature will be automatically applied to your search results page.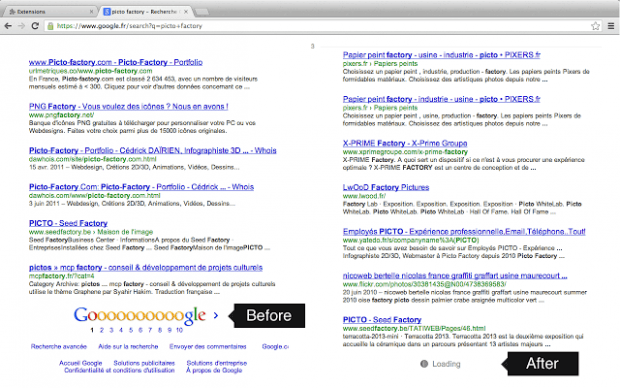 Just scroll down and you'll eventually see the markers that indicates that you have already scrolled all the down to the fifth page, sixth page, seventh page and so on.
If you want to restore the default search results page settings, just disable the ScrollSearch extension.
It's that simple.
Related Posts