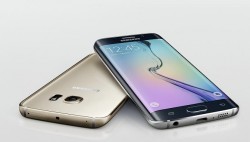 Since Apple is still the smartphone company leading the way with one singular phone being the most popular in the world you probably have heard about the 'BendGate' issues surrounding the iPhone 6 last year. The iPhone 6 is still the latest smartphone the fruit company have on the market today and it marks the first generation phone Apple has made that was around 5 inches in size and not around the usual 4 inches. While the size overhaul was considered an overall success, it didn't happen without its problems along the way. The one thing most Apple fans remember is the BendGate saga where the phones were reportedly bending in people's hands. Since then we've seen other handsets suffer the same bending problem. Some people don't mind whether their smartphone or phablet bends while to others it is a big deal they'd rather avoid.
Well, thanks to a new band test performed by CSR, we are now able to see exactly how much flex or give the new Samsung Galaxy S6 Edge has. The Edge variant of the Samsung Galaxy S6 has no bezels down the two sides and all that extra screen real estate is taken up by the display. Therefore, you would think the Edge S6 would perform worse than the usual standard S6 flagship by Samsung. Suffice to say, by watching this video you can apply the same results over to the sister Galaxy S6 handset if you are thinking about buying that one instead.
The Samsung Galaxy S6 Edge sports a 5.1 inch physical display, Super AMOLED screen technology, weighs 138 grams, has a 1440 x 2560 pixel screen resolution, 16 megapixel camera and the Exynos 7 Octa 7420 system chip. Furthermore, it comes with the impressive 8-core, 2100 MHz, ARM Cortex-A57 processor or a ARM Cortex-A53 , 64-bit processor.
Related Posts