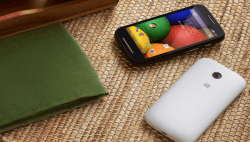 The Motorola Moto E is the most affordable smartphone out of the new Motorola phone range comprised of it and two others: Moto G and Moto X. Sure, you can easily make points for the other two being better phones overall, but arguably it's the cheaper handset that's best for tinkering with the OS and gaining root access because it comes with less financial risk. Before we can gain root access we must first unlock the Motorola Moto E bootloader. Here's how that's done:
REQUIREMENTS
Only follow the steps if you have the Moto E. It isn't the right guide for any other device, including the others from the Motorola company.
You must already have Android SDK set up on your Windows computer. Click through to the guide on how to do that.
BEFORE WE BEGIN
Navigate to the phones Settings and enable the USB Debugging Mode. You'll find that easily from the Developer Options menu. Can't see the Developer Options? Don't fret! You can unlock that menu by tapping on the software build number seven times available from the About Device menu also from the Settings.
You must have a Windows PC and the same one that you installed Android SDK. if you already have Android SDK you don't need to set it up again.
HOW TO UNLOCK THE MOTOROLA MOTO E BOOTLOADER
Boot the Motorola Moto E in Fastboot mode.
– Hold down the Volume Down and Power keys to make that happen. Keep them in for at least 6 or 7 seconds.
Connect the handset to the computer with the USB cable.
Navigate over to the Android SDK folder that's installed on your computer.
Open the Command prompt by right-clicking the mouse on a blank white space and selecting the command line option.
Type your first command: "$ fastboot oem get_unlock_data".
You'll see a long line of numbers and other digits taking up the screen. that's perfect!
Now head to the Motorola webpage here and follow the on-screen instructions. It will result in an email sent your way.
Now you have the unlock code sent directly to your email. You can enter that and your bootloader is officially unlocked.
Related Posts