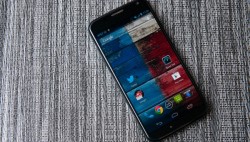 If you are someone who doesn't usually play around with technology because you don't want to risk breaking it then you might not achieve a great deal on your smartphones. The smartphone manufacturer's have you covered a lot easier than computers when it comes to problem solving and implementing solutions. Thankfully, if you ever get stuck through the Android mobile operating system, you can perform what we call a "factory reset" and reset your smartphone the way it was when you opened it out of the box. Here's how to factory reset the Motorola Moto X smartphone:
BEFORE WE BEGIN 
Understand that there are two different versions of the Motorola Moto X. The guide is for the second-generation variant known as the Moto X 2014.
If you have already stored data on your device that you don't want to lose, you need to back that up. Use the built-in backup functionality or a third-party app from Google Play such as Helium.
Backup the data like phone contacts, SMS texts, call logs, pictures, music files, videos and anything else like Settings you've changed.
HOW TO FACTORY RESET THE MOTOROLA MOTO X
Completely power down the smartphone by holding in the Power key for 15 seconds and letting go.
Reboot the Moto X in recovery mode by holding down the Power and Volume Down keys.
Let go of the buttons once at the recovery screen
Scroll down the list using the Volume keys and stop at the Factory data/reset option.
Tap over the same option and confirm that's what you want.
Depending on how much data you have, this could take some minutes.
Wait until the Moto X reboots automatically, it is common for the boot process to take longer than the usual booting time.
Now your Moto X is new like it was out of the box without any bugs. Learn how to restore your data you backed up earlier to restore all your phone contacts and pictures.
Related Posts