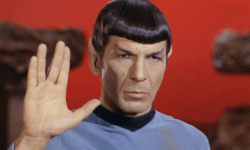 You probably already know that the man who played Spock in Star Trek, Leonard Nimoy, passed away the other week. Moreover, the official iOS 8.3 update is available for users to download either from the IPSW manually and over the air automatically. Once updated to the latest version of Apple software, you can follow the guide below to add a special Spock emoji to your iPhone or iPad keyboard. The Spock emoji gives users a chance to send the "vulcan salute" which is tough to master in real life with your fingers.
HOW TO CREATE THE SPOCK EMOJI IN IOS 8.3 AND USE THE VULCAN SIGN
1. Click this twitter link from your iDevice running iOS 8.3
2. Copy the Vulcan salute emoji symbol.
3. Now navigate over to Settings -> General -> keyboard -> Shortcuts
4. You want to find the "phrase" section and paste the Vulcan salute emoji symbol there.
5. Type a word that you can remember to use as the phrase to use to make the Spock emoji appear.
6. Tap the option to create the shortcut.
7. The phrase you chose is what you have to type to see the emoji picture come up.
That's it! You're done. Now you can use the new Spock emoji symbol with your buddies.
Source: Cult of Mac 
Related Posts