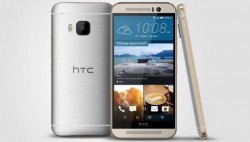 Team Win's TWRP Recovery is the easy custom recovery option to choose for your HTC One M9 smartphone. The following guides teaches you everything you need to successfully install TWRP, as well as give you everything you need beforehand. Find everything you need after the drop.
REQUIREMENTS
You should only use this guide on the HTC One M9 smartphone and not one of the other options like the M8 or M7 smartphones.
BEFORE WE BEGIN
HOW TO INSTALL TWRP RECOVERY ON HTC ONE M9
1. Unzip the ADB and Fastboot files to the computer.
2. Transfer the TWRP recovery image "twrp-2.8.6.x-hima.img"  file over to the same folder that contains fastboot.
3. Keep that fastboot folder open and right-click the mouse and hold down the Shift key at the same time on a blank white space in the folder.
4. Choose to open the Command prompt from one of the option in the menu.
5. Now completely power down the M9 by holding down the Power key for over five seconds.
6. Boot it back up in Download Mode by holding the Volume Down and Power keys together, now release the power key but continue holding the Volume Down key–you are now in Bootloader Mode.
7. Once you see the display change, you should use the Volume Down key to move down the screen until the option hovers over the "Boot to Download Mode" option. You'll need to press the Power button to confirm that move.
8. Change the twrp-2.8.6.x-hima.img file name to recovery.img.
9. Connect the HTC One M9 to the computer using the USB cable and from the Command prompt, enter the following command:
"fastboot flash recovery recovery.img"
That's all you need to do to install the TWRP recovery.
Related Posts