In a previous post, we showed you how to move installed Windows Store apps to a different drive on your device. If you haven't noticed yet, Windows 10 additionally has a setting to allows users to set the default location for installing apps and games from Windows Store.
Before trying this out, make sure you had Windows 10 Technical Preview build 10061 installed. This build was release last week for the fast ring. The reason I ask for this is that the feature doesn't work so well in earlier builds.
To set the default location for installing Windows Store apps, you can do the followings.
Type "Storage Sense" into the search box on the Taskbar and select the first result.
In Settings window, there's a section called "Save locations." What you need to do now is select the drive you want apps to be installed at the line says, "Save new apps and games to."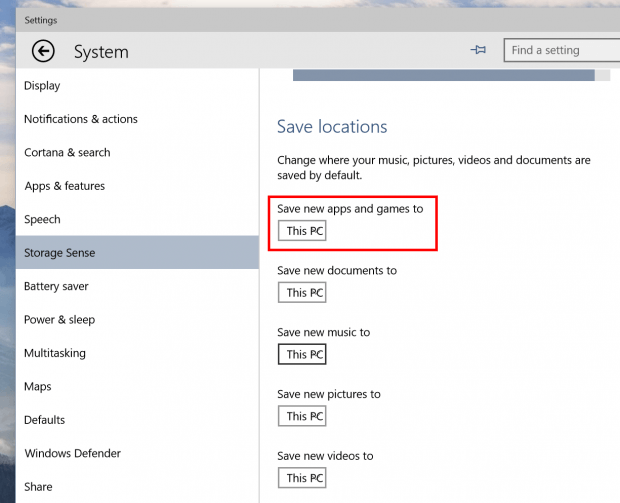 Because Windows 10 isn't finished yet, this feature definitely doesn't function properly. In my test, it seems that apps can't be installed onto my SD card, although it's an available selection in the Settings. One more thing, after setting a different install location, when you install an app from the Store, it might show "Working…" for a very long time. Don't worry, it's just a bug. The app will be installed eventually. You should check the Start Menu after awhile to see if the app is installed.
Related Posts