In Chrome, if you want to save an image, you usually right-click on it and then choose the "Save image as" option on the menu that appears. Now, what if you're looking for an alternate option – an option that doesn't require a lot of clicking? Like, for example, you only need to drag the image and then it will be automatically downloaded and saved to your computer?
If that's what you want, then here's an easy way for you to save an image by simply dragging it.
How to save an image by dragging it in Chrome
First and foremost, download and install the "Drag Image to Save" extension for Chrome.
After installing the "Drag Image to Save" extension, it will add its icon to your browser's omnibar. See to it that you're already familiar with its icon before you proceed. If the icon has an "X" mark to it that simply means that the extension is inactive. Just click the icon again to make it active.

Moving on, just go to any website or page with images or photos. You may also use a search engine or stock photo site to browse for photos.
Now, place your mouse cursor over the photo that you wish to download.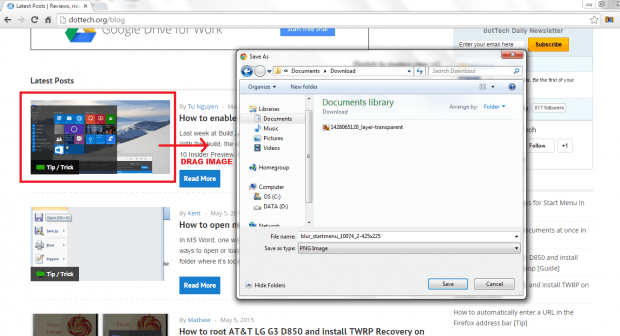 Drag the photo to any direction and that's it. The "Save as" dialog will automatically appear so all that's left for you to do is to set a name for your downloaded file and then click "Save" to confirm. The photo will be saved in JPEG format.
That's it. You're done.
Related Posts