Do you want to master the art of using keyboard shortcuts? Speaking of which, why don't you start with Gmail? As a matter of fact, the web-based email service has a lengthy list of useful keyboard shortcuts. The thing is you can't easily familiarize yourself with all these shortcuts unless, of course, you have a really good memory.
Fortunately, you can learn as you go. You can get subtle notifications or reminders on your screen as you compose a message, reply to an email or even while deleting the old ones.
Of course, that's not a function that you can enable on Gmail by default. It can be done only by using a third-party Gmail add-on.
How to quickly learn keyboard shortcuts while using Gmail in Chrome
Open your Chrome web browser and log in to your Gmail account.
Next, add the "KeyRocket for Gmail" extension/add-on to Chrome. Click here to view the extension at the Web Store.
Once successfully added, KeyRocket will add its icon to your browser's omnibar. It will also open a new tab that automatically leads to your Gmail settings page.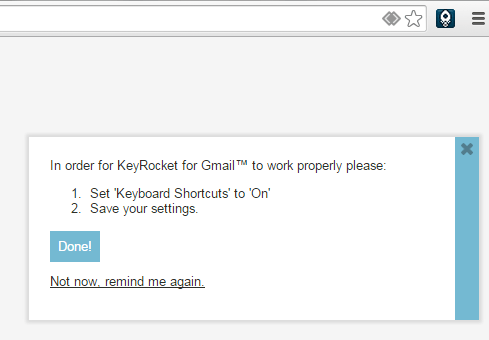 On your Gmail settings page, go to the "General" tab and then look for the "Keyboard Shortcuts" option. Make sure that your keyboard shortcuts for Gmail option is turned on. Don't forget to click "Save Changes".
So what's next? Just go to your inbox and use Gmail like usual. You may compose a new message or reply to an email. You may also delete some emails or completely empty the Trash section.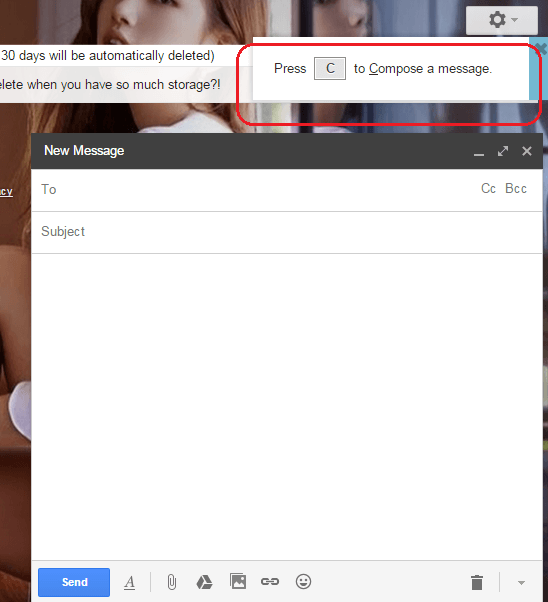 As you use Gmail, the KeyRocket add-on will just show subtle reminders on your screen from time to time. For example, when you compose a new message, it will show a reminder that you can open the Compose window just by pressing "C" on your keyboard. Just click the "X" on the reminder window to close it.
So that's basically it. As you continue to use Gmail, you will learn more useful keyboard shortcuts. It's already up to you whether you want to put them into practice or not.
Related Posts