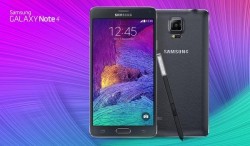 The following guide demonstrates how to root the Sprint Galaxy Note 4 on Android 5.1.1 Lollipop. Since the official 6.0 Marshmallow software update isn't rolling out to any Android smartphone or tablets yet, that means the 5.1.1 Lollipop update is still the one most people are running. Here's all you need to know to root Sprint Galaxy Note 4 on Android 5.1.1 Lollipop:
REQUIREMENTS
You should only follow this guide if you own the Sprint variant of the Note 4.
In addition, you should be running the latest Android 5.1.1 software update. The guide does work for those running the latest 5.1.1 Lollipop VPU4COG5 firmware.
BEFORE WE BEGIN
Download the Samsung USB Drivers for mobile phones from our page. You might need to reboot the computer to get the updated version of the drivers working.
You do void any remaining warranty by following this guide. That means you'll likely struggle sending it away for free repairs if you need them.
You must have a custom recovery pre-installed on your device before you can follow this guide and gain root access the same.
HOW TO ROOT THE SAMSUNG GALAXY NOTE 4 RUNNING ANDROID 5.1.1 LOLLIPOP
Download the required rooting package from this third-party link here.
Download the said file directly to the desktop, but leave it zipped.
Plug the Sammy phablet into the Windows computer where you downloaded the above file.
Transfer the rooting package to the internal storage SD card. Be careful not to hide the file in a sub folder. We call this keeping it in the root folder.
Once you are happy that you have the file on the SD card, unplug the smartphone from the Windows computer.
Completely power down the Note 4 by holding in the Power key for ten seconds and then releasing the button.
Reboot the Note 4 in recovery mode now: Power + Home + Volume Up keys until you see the recovery option.
Head to the "Install' option from the recovery menu and browse the SD card for the rooting file.
Confirm and install the said file and wait until it's complete.
Head back to the main recovery menu and choose to reboot the system (reboot the smartphone).
Your device will now have the root access you desired once it reboots. Now you are ready to think about flashing custom ROMs since you have root access and the custom recovery installed.
Related Posts