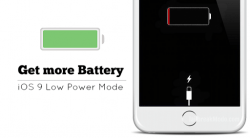 No matter how much you love smartphones and technology in general, there's always one problem that is frustrating: the battery. As great as the iPhone is, it still runs out of battery power sooner than most would hope. Often the most frustrating times come toward the end of the battery and it being so difficult to predict once it's in the red zone. Do I have five minutes? Do I have two minutes? Maybe I need to account for minus twenty seconds because my screens a touch brighter today — it's all too much.
If you are hoping for a magical iPhone battery cure to come, you should look out for the new Low Power Mode coming in iOS 9 that can save an additional 50% battery via the software only and without changing the battery at all. As I previously mentioned, that's coming in iOS 9, but people sticking with iOS 8 won't get that luxury.
We are now counting down the hours until the release of the iOS 8.4 software update and the official iOS 9 release will come later in the year. While we hope that the same exploit TaiG used for the iOS 8.3 jailbreak remains open during the iOS 8.4 release, we aren't as confident with iOS 9. In fact, we are almost certain that Apple will patch the jailbreak by iOS 9, and if earlier reports are to be believed, we might not ever see the iOS 9 jailbreak.
So, if you are running the untethered jailbreak on iOS 8 and wish to keep it, you might not be able to update to iOS 9 and use the Low Power Saver mode that would have been coming to you. The Power Saver Mode Cydia tweak is your answer to that problem.
HOW TO MIMIC THE IOS 9 LOWER POWER MODE ON IOS 8
Turn on the iDevice of your choice.
Once Cydia is installed, add this repo: http://elijahandandrew.com/repo/
Enter the Power Saver Mode Cydia tweak name in the repo and install the tweak.
Once it's installed, you can open the Settings app, followed by General -> Usage -> Battery Usage.
Related Posts